Unlike Mexico where we had each stop carefully planned months in advance, we hadn't made any real plans for our stay in Costa Rica besides the week of surfing with Henriikka. Once she left, we just looked in our guide book for a place to stay in the general area where we wanted to go and booked a room at random.
Oh guide books, how deceiving you can be… We landed in a hotel that looked like it might have been grande once. Greek style columns dotted the lofty entrance hall, a sweeping staircase lead down to the dining room and the micro-brewery (no kidding!) and, as pointed out in the guide book, there really was a spa and tennis court. Even the view of lake Arenal below was majestic as promised. Problem was, the place looked like no one had used any of it for the past couple of years. Paint was peeling on every column, bare bulbs were hanging from the unfinished lightsockets in the ceiling, the micro brewery had never been used and the lobby was full of lumpy futons and saggy leathercouches. Together with the smell of stale cigarettes lingering in the air, I was instantly transported back to the smoking rooms in boarding school.
The owner, an American who had lived here for a long time although you wouldn't assume so from his Spanish, showed us to our room. It was his best one he said and far away from the noise so he was sure we'd like it. There were ants in the bathroom and the sheets were damp but it was cheap and had a nice view so we agreed to stay for three nights. Boy was that a mistake.
I'm not going to recount the whole time we spent there because a lot of it was just filled with creepy atmosphere, increased by constant rain, low lighting and the fact that we were the only guests. (Yet the place was full of kids and teenagers who sort of worked there, mainly burning our food. Half of them calling the owner 'Papi'.) The lowpoint though came on our second evening when Conor and I made the mistake of accepting the owner's invitation to join him at the hotel bar where he'd been hard at work since the early afternoon with a bunch of mates. By the time we sat down for a beer at the little counter, everyone was well on their way to serious inebriation and Conor and I just tried to sit quietly and smile. Of course that didn't work, someone started to talk politics and things just got confusing. One of the guys kept saying how much he hated the US and what a shitty place it was but that he was so proud that he had fought in Kuwait. (He was a US citizen, naturally.) He'd lived for 20 years in Costa Rica but he wasn't interested in giving up his citizenship. Actually, after I asked him about that he seemed offended and stopped talking.
But goody for us because now the girlfriend's owner had a chance to start talking. She was tiny and possibly even more intoxicated than the former soldier but she kept taking big swigs from her rum cocktail, telling us all about how much she loved nature. And that the Spaniards didn't get it when they invaded the Americas that nature can't be mined or sold that it's just beautiful and you have to love it and she just loved it SO MUCH! She was starting to freak me out a little because she wouldn't break eye-contact when she told me all this. Just kept saying how much she loved nature and that it made her feel so good inside. I'd never been hit on by a woman before so it took me a second to realize. Then things just got awkward because her boyfriend, the owner, started asking us if we had children. When we said 'No' he wanted to know why not? And was I thinking about having children soon? Because our species, and Germans in particular, needed to be continued and it was important for women to have children. (He had a real beef with the Germans and how they had a new grand plan to take over the world only smarter this time. They were going to spread their genes by producing loads and loads of offspring. I must have missed that memo…) Obviously getting lectured on our reproductive duties by a drunk gringo in a decrepit hotel bar was going just a little outside the comfort zone and I started telling Conor that I was really tired and oh my, would you look at the time? We have to get up early tomorrow, so sorry but we really should be going now. After several more slurry scoldings about still being childless and a long, tight and very uncomfortable hug from the girlfriend, we finally escaped to the safety of our room. I can't remember the last time I was so happy to leave a place behind.
After this experience we didn't want to stake too much on our guidebook's info so we decided to not plan anything and simply drive to our next destination and start looking around. That brought us a few gems as well. One night in Tamarindo we found a wonderful little apartment by the sea but unfortunately it was already booked for the night. We could have it starting tomorrow though! So we decided to splurge and booked ourselves into a swanky all-inclusive resort for one night. Conor made eyes at the receptionst and got us in at the Tico rate, i.e. the price Costa Ricans' pay. Neither one of us had ever stayed at a place where everything was included and in retrospect I understand why. Because food and drink was included in the price of the room, it became all about the food and drink. Especially the drink. Of course the hotel is not stupid and waters the drinks down to a certain point as well as using the cheapest alcohol they can possibly get away with (Conor's drink tasted suspiciously of paint thinner). But that almost makes it worse because everyone just downs their piña coladas and margaritas like water before running to get more. Throw in some onion rings and fries while you're at it. And all this at ten o'clock in the morning. But hey, it's free!
We only spent one night there and only ate at the buffett, no onion rings and fries by the pool, but we were stuffed to the gills anyway and promised not to eat for the next 48hrs. The unexpected highlight of that hotel? The wildlife. As soon as the sun set racoons came out of the bushes surrounding the pool, scouring the area for leftovers and trash. At first we got all excited and thought it was such a hoot that there was a racoon running around the pool! But as we walked to our room on the far end of the property we realized that there were racoons EVERYwhere: in the hallways, rooting through the trash cans, even at the kitchen! It seems they too had gotten the all-inclusive package.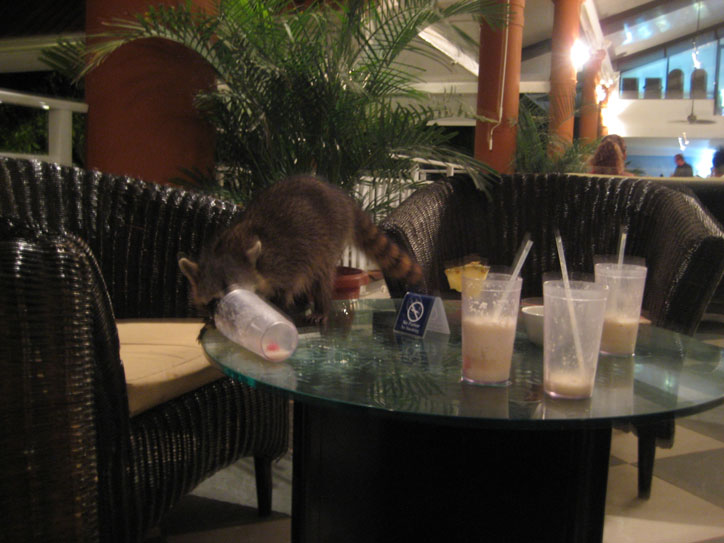 While I was running back to the room to get the camera, Conor watched this little guy making a quick round of the table, tasting all the drinks but eventually returning to his original choice. Apparently the other three cocktails were 'virgins'.
One Response to "A Couple Walks Into A Hotel…"