Yesterday we caught a bus, walked across a bridge and suddenly found ourselves in a whole different country. That's how easy it is to get to Panama from Costa Rica. (Although if you could take a boat it'd be even easier and faster.) The bridge isn't quite what you'd expect of an international border but the adventure is all there: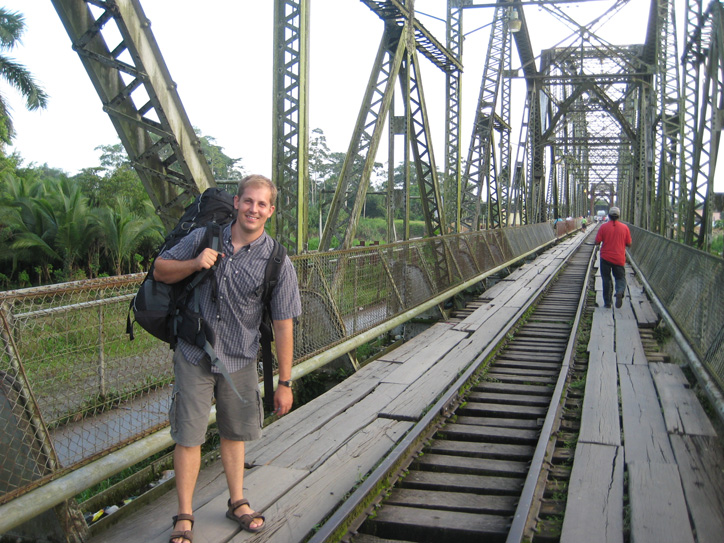 Once we got our passports signed by the Tico authorities, we walked across, got a stamp from the Panamanians and we were all set. Easy peasy lemon squeazy. (We could have also just walked across the bridge; no one stops you on either side. But then that leads to uncomfortable questions once you try to board an airplane in Panama City.)
I gotta admit, I was pretty excited to leave Costa Rica. (Woops, did I just write that?) For some reason I feel evil talking badly about this little country that tries so hard and is so pretty. But it really didn't do it for me. Most important of all, the weather is …uhm… difficult. The rain was to be expected and wasn't too bad actually. It usually came in quick, strong showers. But the dampness that came with it was just too much. Starting in Dominical, our clothes were in a permanent state of semi-moist that of course brought with it a sensational smell of old, wet towel. Then we spent four days in Drake where the humidity was so high that my hair started curling and my shoes grew fungus. Costa Rica pretty much lost me after that.
But even ignoring the weather (that's not the Ticos fault after all) there isn't much that's making me think I want to go back there anytime soon. Maybe we just travelled the wrong way around – going from Mexico to Costa Rica is like going from Italy to Luxembourg. We missed the food, the culture, the outgoing and interesting people. Even the music and the noise! The Ticos are very polite but everything, absolutely everything in the country is catered towards tourism. You can't throw a dog (of which there is an overabundance) without hitting a canopy, ATV or horseback riding tour. While this is fun for a week or two, it gets very boring after that.
Surfing was the saving grace. The waves in Santa Teresa were excellent and we could have easily spent another week or two there. I would even consider going back although maybe not until they finish the tarred road (at the moment it's all dirt road and the dust that gets thrown up by each passing ATV, car, bus and lorry is just incredible).
Leaving Costa Rica behind though, literally, let's talk about Bocas del Toro where the music is on, the people are fun and nary an ATV tour in sight.
We accidentally took a tour to Bocas del Drago today with a Panamanian couple. Originally we just wanted to amble around town, see if we could find a book store and maybe take the bus over to Bocas del Drago which is on the other side of Isla Colon. (Bocas del Toro is an archipelago and Isla Colon is the main island.) But then one of the tour guides heard us talking about Bocas del Drago and made us such an appealing deal that we went for it. He took us to see Punta Caracol, a hotel built completely on stilts: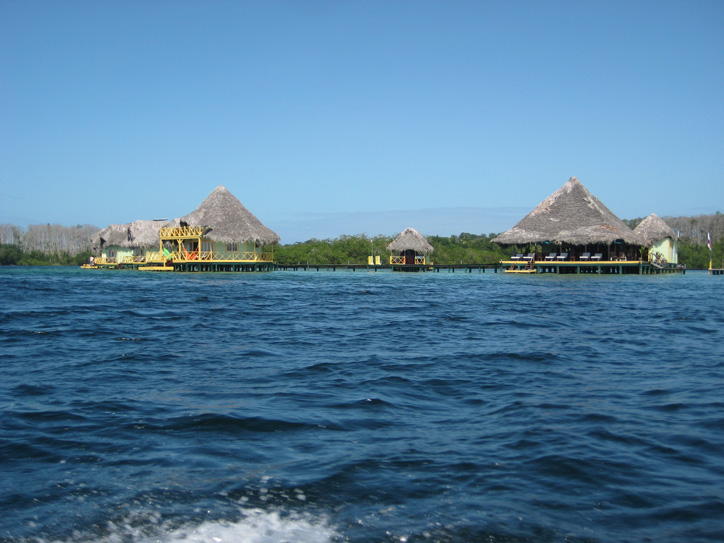 Starfish beach, which really earned its name: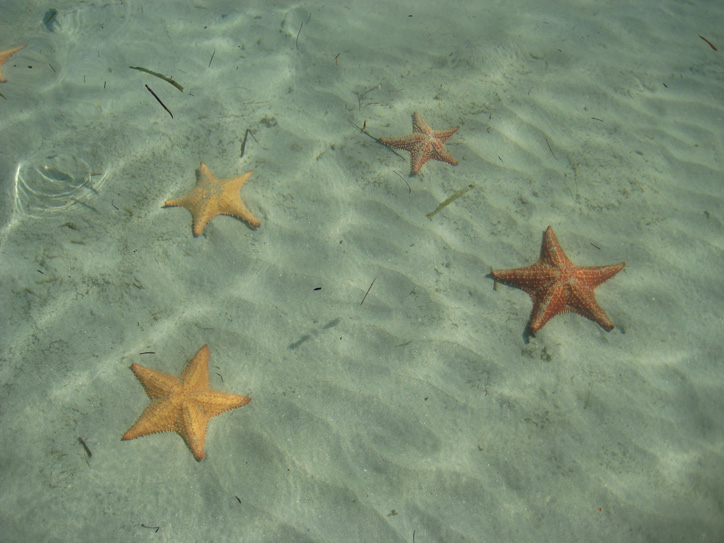 And then on to Bocas del Drago which turned out to be just a regular beach. Nice but nothing too special. On our way back we rescued a shipwrecked American couple who were floundering around in a wannabe sail boat (it was really more of a row boat with a mast glued on). Their rudder had broken and apparently they were ready to tear each others' heads off. We could have just thrown them some of our life jackets but I think they would have failed to see the humour: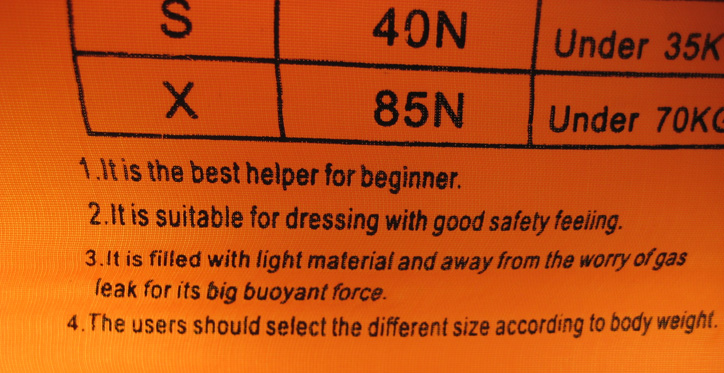 More photos in the gallery