Posts have been scant in the past few days because we're in Caracas, spending the holidays with Conor's family. Of course there's a lot to say about Caracas and Venezuela, not even touching on the political situation, but since this is Conor's home and I've been here several times before as well, it doesn't feel new or exciting enough to write about. We're essentially on vacation these days.
Ever since we landed in Caracas a week ago, things have been both slow and fast. Slow in the sense that our usual tourist routine has been completely reversed and we spend long hours just relaxing at home, watching movies, reading and hanging out with friends. Fast because Conor's sister had a baby just over a week ago and obviously that's brought a whole lot of extra activity into the house and our lives. Little Mila is absurdly adorable and behaves like a model baby: she sleeps, eats and poops. If there is any crying, her parents are very good at shielding the rest of the house.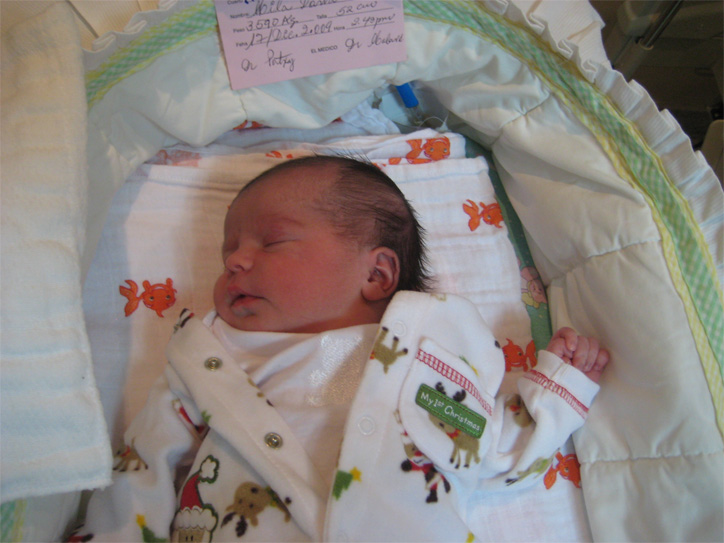 Tonight is Christmas Eve and even though it doesn't feel very Christmassy yet, especially since it's 30˚C and sunny outside, the decorations are ready, the roast is in the oven and everything is set for the festivities tonight. Just like at my house, presents are given on the 24th at night. Conor's mum would like it to be at midnight but since there are small kids in the house, this will probably happen BEFORE dinner… After the inevitable wrapping paper orgy, we'll have a scrumptious meal of pernil (a pork leg roasted in the oven), ensalada de gallina (chicken salad) and roast potatoes followed by a mess of chocolate-oatmeal cookies that I made this morning (they're very tasty but a disaster to look at).
Over the past few days we've been decorating the house to get it ready for the holidays. The Christmas tree is a real pine and spreads a wonderful scent around the house. There's also an extensive nativity scene which includes a waterfall and lake made of blue plastic wrap and lemon shaped fairy-lights. Conor and I brought some papel picado from Mexico which we've strung up all over the house and there are mountains of presents under the tree just waiting to be opened tonight.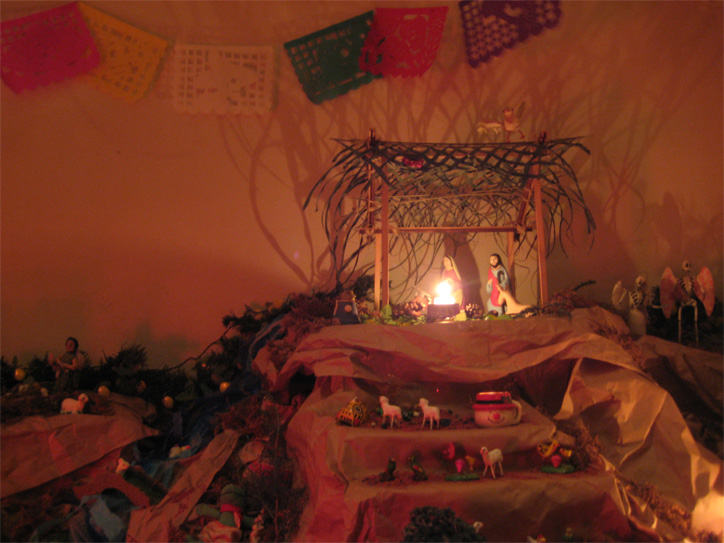 This picture is a much more accurate example of what is really going on, especially with Catire the cat reclining in the manger: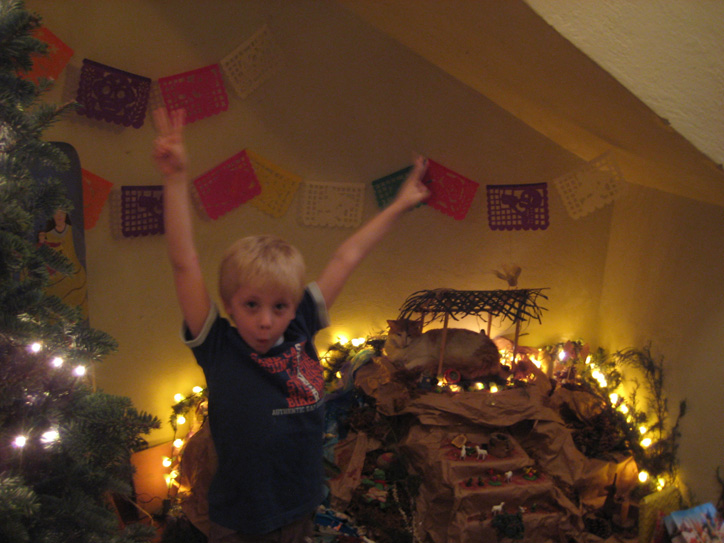 In that spirit, merry Christmas everyone! (Or happy hanukkah, jolly festivus, whatever it is you're celebrating these days. Even if it's just a weekend off.)