We finally made it to Mexico after a little delay in Miami due to missing our plane (woops!) but that way we got to have lunch at Bulldog barbeque with Fer and Ido and taste the best ribs in South Florida before taking off.
Now we are staying in a beautiful hotel right by the beach, south of Cancun. Because this is hurricane season the prices are low and the hotel is practically empty so we even got an upgrade for our room. It has a little terrace with a hammock and day bed, overlooking the pool onto the beach and ocean beyond. If it wasn't so hot outside we could fall asleep to the sound of the waves crashing instead of the hum of the a/c and fan.
This morning we received our breakfast through the butler door (an ingenious little concoction by which the staff can slide trays into your closet without coming into the room) and then went to find the dive master of this swanky establishment.
Enrique turned out to be a very friendly Mexican who lived in Chicago for 25 years, is married to a lady from Kentucky and thinks it's great that we're taking this time out "antes de los chavos" (Mexican for "before kids"). We told him that we really wanted to dive a cenote, preferably Dos Ojos, but he was a bit hesitant about our lack of experience. Instead he offered to take us out onto the reef in front of Puerto Morelos. (Of course this had nothing to do with the fact that he doesn't do tours to Dos Ojos and would have had to refer us to another dive shop… 😉 In any case, we agreed and showed up an hour later to get briefed for our dive.
Apparently he had changed his mind about our experience level in the meantime because the dive he proposed was a bit out of our league – technically Open Water divers like us are only supposed to go down to 60ft (18m) but the wreck that he planned on taking us to went down to 90ft! It's an old navy ship called C-56 that was sunk nine years ago specifically for diving purposes. By now corral has grown all over it and there are lots and lots of fishes and sea creatures living in and around the wreck.
We saw rays buried in the sand waiting for their lunch, an eagle ray worthy of its name gliding past, a lobster carcass completely intact including antennas and feet (they grow out of their shells every so often and leave behind their former selves, very cool) and a barracuda surrounded by a writhing ball of sardines. They were shielding it like a giant globe of bodyguards but I think their purpose was more self-preserving than that – not many fish will attack a barracuda, hence they won't get close to the sardines around it either.
On our second tank dive we went to an area called 'El Jardin' (the garden) which is aptly named because it looks like someone planted a large vegetable patch at about 40ft under water, using corrals and sponges, liberally sprinkled with electric blue and yellow fish. Since I had lost my breakfast on the ride over from the first dive site (damn waves) and was still feeling a bit queasy, I thought this wasn't going to be a fun dive but once we hit the water (getting out of a moving boat, learned lots of new things today) the queasiness flowed away with the current and we drifted through the garden for another half hour before returning to the hotel and lunch – what else but ceviche?! Conor tried the Acapulco style shrimps and I had Peruvian.
In the afternoon we took a walk along the beach to see Puerto Morelos and its leaning lighthouse.
The beach is almost white and the sand is so fine it feels like walking over powdered sugar.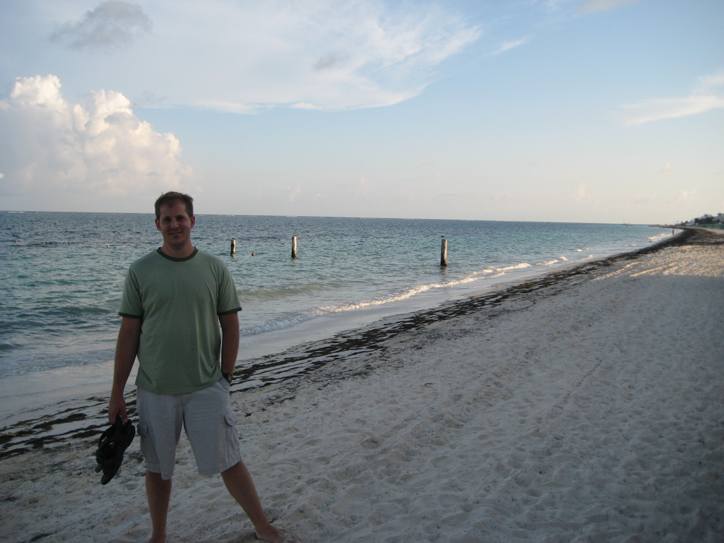 Saw lots of lanchas (little boats) on the way, including these two gems: Zebra and Jaguar.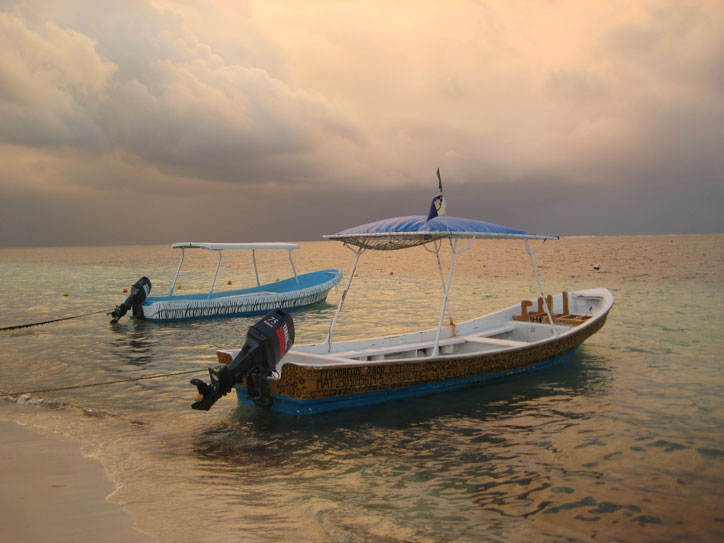 On the pier in town locals were fishing with nets, kids were playing in the water and everyone seemed to enjoy the calm before the storm – we hurried home when the sky started to turn a very angry shade of grey and would have made it too before the rain began if we hadn't stopped to buy some beer on the way. But there's always time for beer and what's a little rain when it's 32C degrees?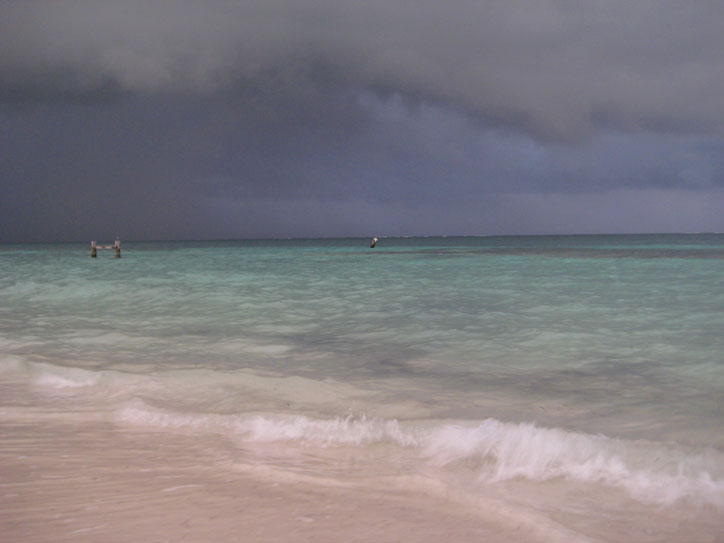 Tomorrow we're off to see the ruins in Tulum and with Enrique's blessing to dive the Dos Ojos cenote!