Today was our second day surfing and the bruise on my hip is developing a nice pinkish purple colour. I have aches in muscles that I didn't know I had, my ribs are sore and my knees are bright red. Yes, I'm a surfing newbie.
We're in Jacó, about 100km south west of San José, Costa Rica, on the pacific coast. The town of Jacó is not terribly exciting – sort of like a Central American version of Paguera, Mallorca – but the waves are decent and there are several beaches to choose from depending on your level of expertise. Our surf camp, Vista Guapa, isn't at the beach but rather up a little hill about 3 km inland. This means we can't walk to the ocean or even into town but we get a killer view.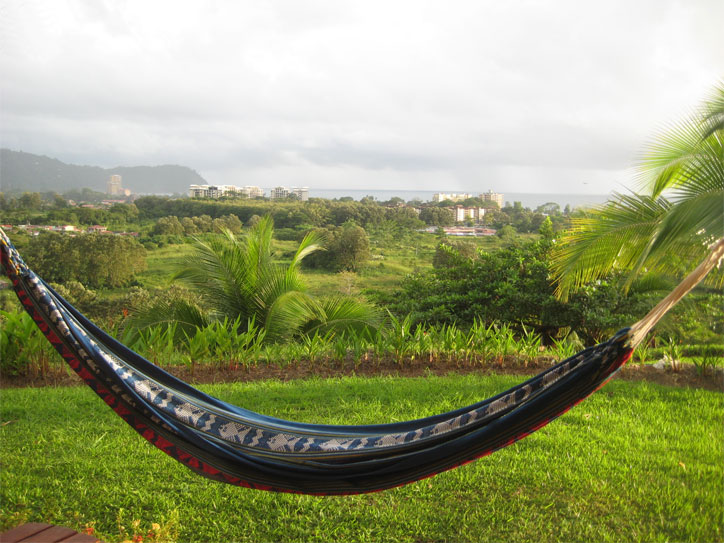 There are only four of us in the group at the moment and we have three instructors so the level of attention we get is great. Especially since Conor is starting to catch his own waves already without the helpful push of one of the instructors so it's almost three on three. (I haven't got any pictures of us surfing yet because I'm either in the water trying to paddle like mad or too tired to care and get the camera. But Wendy, the wife of one of the owners is usually with us taking pictures so I'm hoping she'll share those later.)
When we're not out surfing – we're only about 2-3 hours a day in the water – or moaning about our sore arms and bones – that takes up almost as much time as surfing – we're enjoying all the other stuff Costa Rica has to offer. On our first day we went for a canopy zip line tour which wasn't as scary as the Go Ape experience we had in England but it was still great fun with 13 zip lines zigzaging down the mountain until you arrived at the camp once more.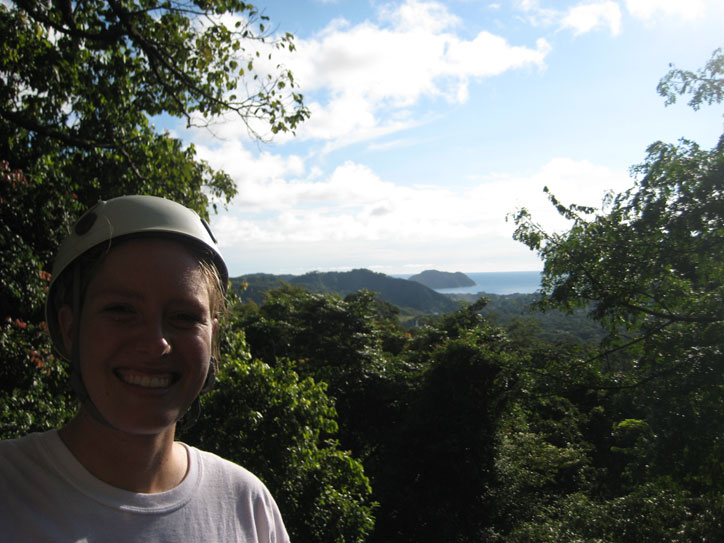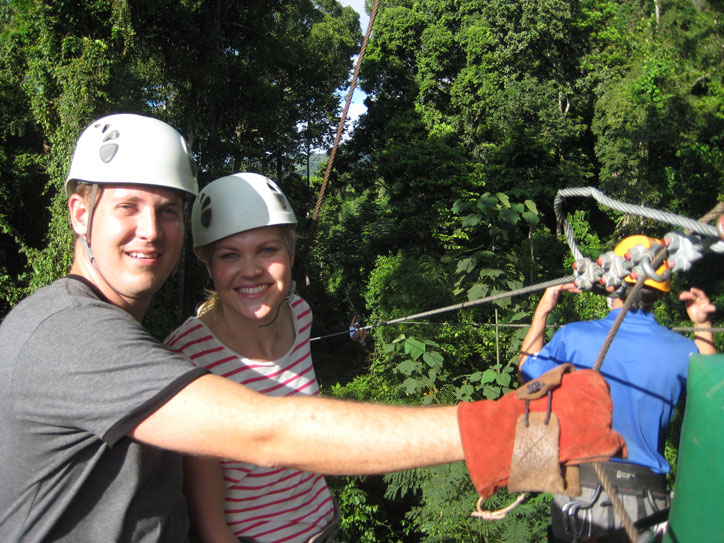 Henriikka and Conor looking stylish while some poor schmuck in the back got stuck on the zip line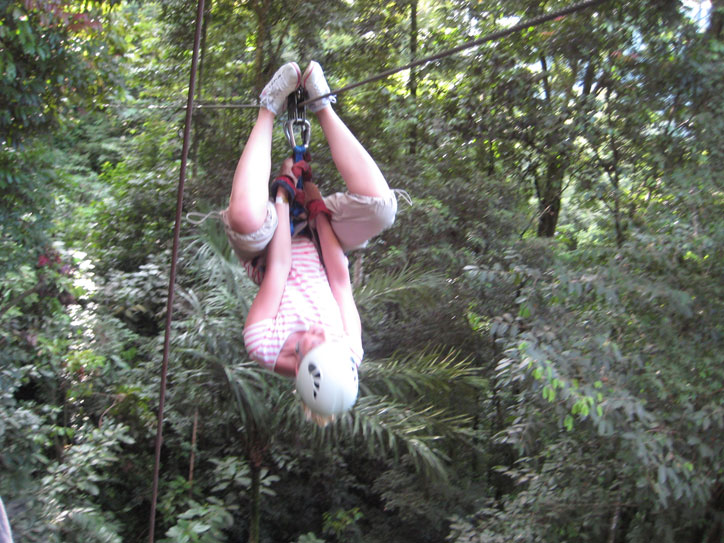 The day after tomorrow we have a day off from surfing, to recuperate I suppose, and we'll be going to the Manuel Antonio National Park, about 70km from here. Everyone has raved about how wonderful the wildlife is there, especially the monkeys, so hopefully we'll get to see some. (As Edwin, one of the camp staff members said, unfortunately you can't reserve the animals for a viewing.) On Thursday we're thinking about going on a little horseback riding tour to see waterfalls in the jungle. And then on Friday we're off to see some volcanoes erupt north of San José. But first, concentrate on surfing. "Paddle, paddle, paddle, paddle, UP!!!"
One Response to "Surf's up, dude!"