That's Conor and me at the moment, we're living the life of gluttonous sloths. After three intense days of surfing in Santa Teresa (on the waves by 6am every morning for the sunrise session) we moved on to Dominical, supposedly for the surfing as well. But the house we had rented turned out to be located half-way up a mountain so instead of hitting the waves we stayed put for three days and enjoyed the spectacular view over the ocean instead.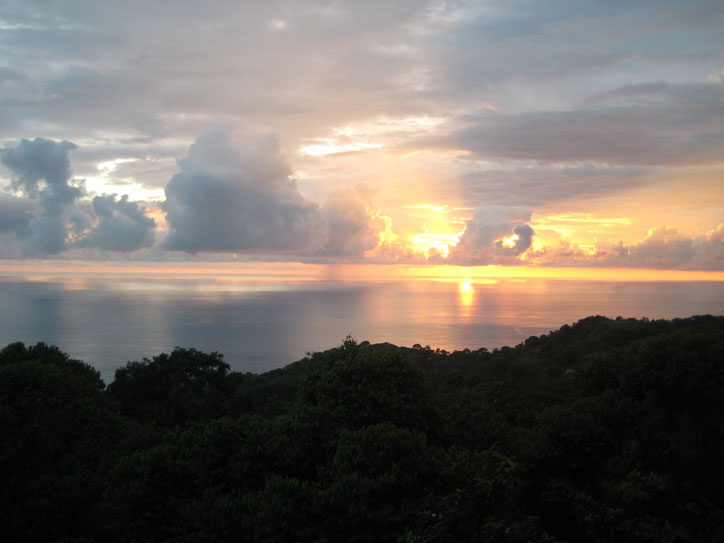 Before we arrived at the house, we made the mistake of buying groceries. Before lunch. So we had three large bags of food for our three days in Dominical – we baked bread, made cookies, had delicious chicken, veggies and mashed potatoes. It was wonderful to have our own kitchen again. We'd already stayed at a studio with kitchen back in Tamarindo but there we basically lived off smoothies because that kitchen came with a blender. In response Conor went a little crazy in the fruit aisle and bought enough papayas, bananas and berries to keep us in smoothies for days.
Besides admiring the scenery of Dominical and gorging ourselves on home-cooked food, we also got some work done and cuddled with our assorted new pets. (The owner of the house lived next door with two dogs, Bart and Burt, and a cat, Cat.) We left the house once, on Saturday morning, to see the farmer's market held at the Uvita football field. It turned out to be more of a meeting point for the gringos of the area but with organic black bean soup and gluten-free brownies on sale, I guess it qualified as a market. The really interesting part was the football field's scoreboard though: the match for Tuesday night was listed as 'Surferos vs Putas' – what a game that must have been…
After that we moved on to Drake Bay which is all the way in the south of the country, almost touching Panama on the Pacific side. One of the most spectacular national parks is located here, Corcovado, and there's good diving at the nearby Isla del Caño. Unfortunately Conor caught the cold from me so we weren't able to go diving but went snorkeling instead. Also took a tour of the park and saw quite an amazing range of animals: starting with a juvenile whale on our boat ride over to the park entrance, followed by hawks, crocodiles, tucans, four different species of monkeys (squirrel, spider, white-faced and howler) and the pièce de résistance, a puma.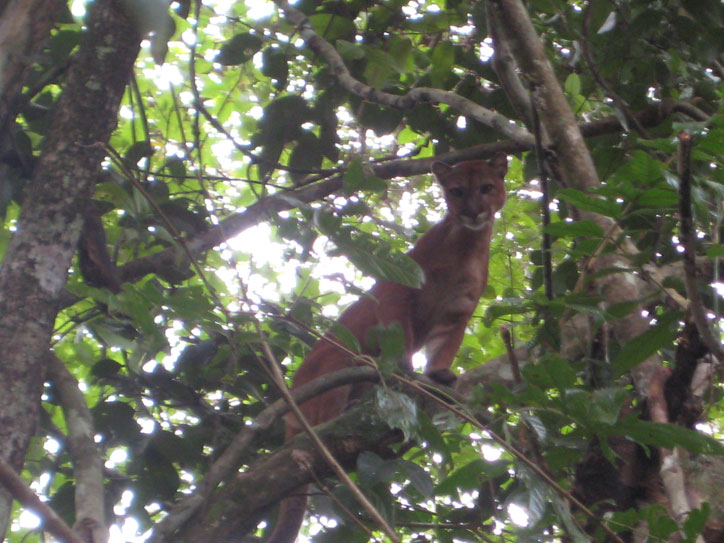 Our guide, Edwin, had told us that there were pumas in the park and that he had seen four in his six years of working here. So we didn't really expect that to happen. But just towards the end of our tour, he suddenly turned around and said "Puma!", pointing straight into the tree in front of us. And there it was, just standing and inspecting us. We stuck around for about 25 min. to see if it would maybe get some lunch – there were some very agitated monkeys in the tree tops all around us, screaming their heads off about the puma in their midst – but unfortunately he seemed to have eaten already. Or else he didn't want to make a spectacle in front of the humans. The monkeys, being the curious animals they are, couldn't resist coming closer and closer to the puma to inspect it. But only to run off again screeching and screaming. Probably to tell their friends "Holy shit, it's really a puma!"