We had booked our flight from Santiago to Caracas (via Bogota) for March 3rd but the earthquake had slightly damaged the airport in Santiago so anything or nothing could happen with our flight. Once again everyone had a different opinion on whether we'd be able to leave or not.
The airline, Avianca, said the flight would definitely leave on Wednesday morning. Which was very reassuring even though the operator on the phone was in Bogota and didn't know much about the situation on the ground in Santiago. Our Chilean friends said that the airport wouldn't re-open until the coming Monday so we should just concentrate on getting our ticket changed for next week. The internet was suspiciously quiet on all accounts; no one posted anything about flights leaving or how much the airport was actually damaged.
So we spent a few days in Santiago in limbo. We got some work done and did some sight-seeing but unfortunately many museums were closed.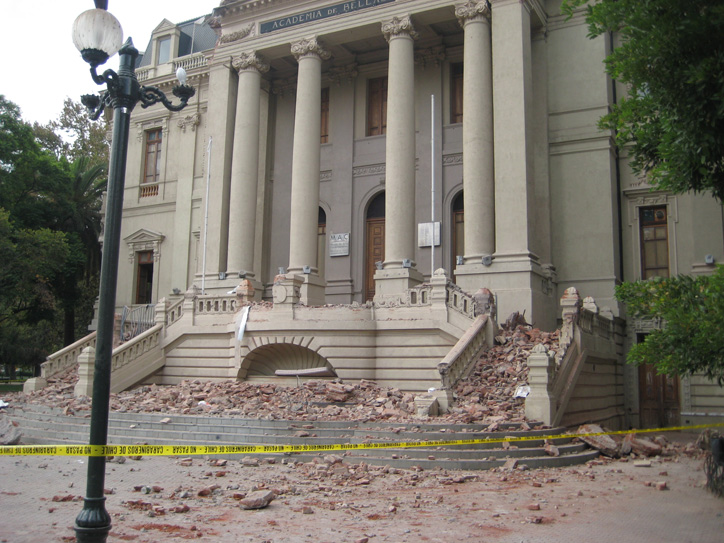 Although there was some slight damage visible in parts of the city, most people went about their business as usual: going to work, eating at restaurants and shopping. Our friend Lola gave us an excellent city tour and took us up to the San Cristobal mountain for some beautiful views of the city and a cup of 'mote con huesillo'. A very excentric Chilean drink/food that combines ice-cold fruit sirup with wheat grains and a dried peach. Really, you have to try it to understand it.
In any case, on Tuesday afternoon Avianca called us to say that yes, the flight was definitely on for the next day (yay!) however because the airport buildings were still closed, we had to arrive at 3am at the Avianca office in Santiago where we'd be put onto busses to be taken to the airport as a group. Of course there was a small organizational problem at the Avianca office that morning with everyone scrambling to be the first on the bus, lest they leave anyone behind. But eventually we all made it to the airport where check-in was handled in some very tasteful, white fabric, party tents. They even had a make-shift customs desk and a portable x-ray scanner. The wait before the flight was probably the worst of it all because the waiting area was packed with tired and grumpy people and a cold draft was coming in through the gaps at the bottom of the tent. But we were just grateful to be there and on our way.
When we got off the plane in Bogota, a crowd of people clapped and cheered for us in the arrivals area; there was free coffee, arequipe and bottles of Colombiana: a disgustingly addictive soda that tastes like a mix of Red Bull and Seven-Up. What a wonderfully warm welcome!
One Response to "All's Well That Ends Well"