Don't worry, we haven't been sucked into a giant black hole on our trip down south. We've just been trying to get our bearings in this new city as well as getting some much-needed work done. But we've vowed to become better tourists in the next 3 weeks.
The area we're staying in is called San Telmo, also known as the antique quarter because there are so many antique shops lining its old-fashioned cobbled streets. But there are also a lot of bars, galleries and restaurants so some call it the Greenwich Village of Buenos Aires. Whatever name you want to call it, it's a great place to stay.
Our apartment is very modern with lots of concrete, glass and steel. Not quite our style but it's sunny and has a wonderful rooftop terrace with a barbecue. Our neighbour has a little kiddie pool on his terrace. At first we snickered at that but with the temperatures steadily rising these days, we're plotting ways of jumping the fence and taking a quick dip.
Yesterday we wandered down a few blocks towards calle Defensa where the weekly street fair was in full swing. This turns almost the entire street into an artisan/flea market with vendors offering everything from knitted Barbie dresses (with human size versions to match) to the obligatory mate containers in all shapes, sizes and materials. One guy was selling flowers from the back of his bike. Or maybe he was just taking his plants for a ride.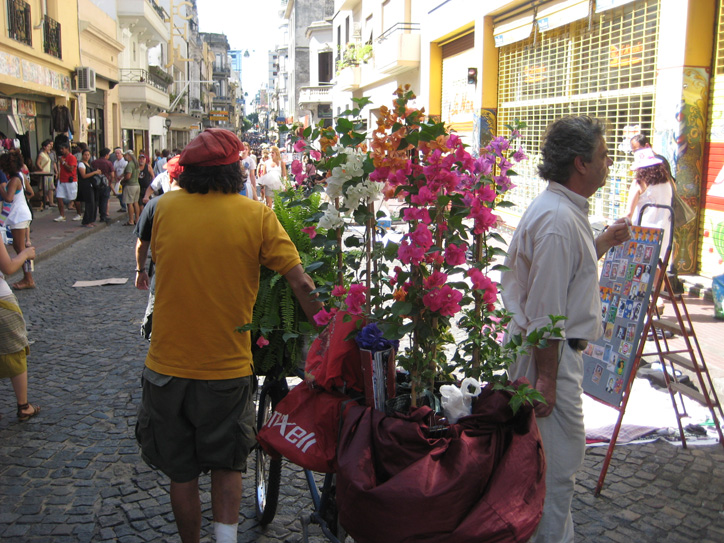 At the plaza Dorrego, the epicenter of the San Telmo street fair, we had the equivalent of an Argentinean ploughman's lunch.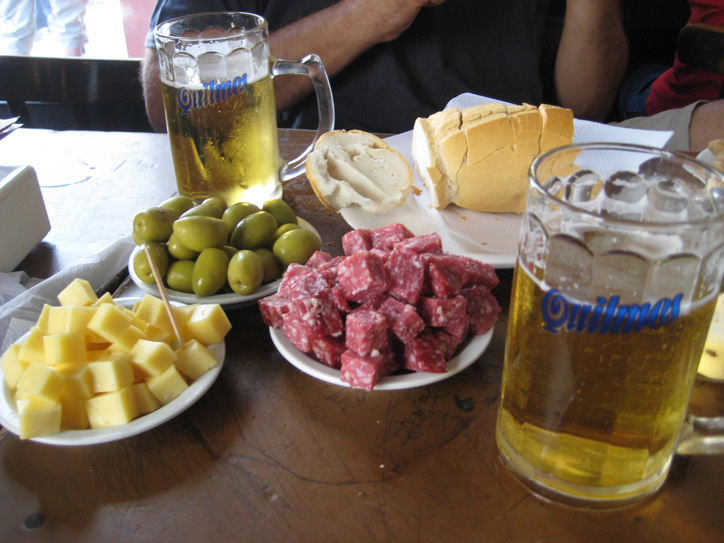 Speaking of food, I'm sure you're all dying to hear whether the meat is really as succulent as everyone says it is. So far our verdict is, yes and no. We've been to a restaurant recommended by a friend as well as a guidebook and the meat was fine but nothing to write home about. Then we had some Venezuelan friends over for a barbecue on our terrace and that meat was excellent. (Hmm, that makes it sound like we ate our friends. It was beef on the barbecue, I promise!) Which explains our 'yes and no' verdict: Restaurant 0 – Carrefour 1. We shall continue our research on this topic though and will report back with further findings.
We've also wandered around Puerto Madero a bit, the youngest quarter of Buenos Aires. It's the old port of the city that has been reformed in the past 20 years with spacious lofts and trendy restaurants. Calatrava built one of the bridges connecting the mainland with the port side, which looks especially nice at night: