It's incredible what kind of deals you can find online. Like the flight we took yesterday/today. Back in July when we started looking for a flight out of Europe our only requirement was that it had to land somewhere in Asia. After sifting through many different destinations (Bangkok, Hong Kong, Kuala Lumpur) and airlines (Thai, AirAsia, Aeroflot) we finally came up with a winner: Emirates from Rome to Seoul via their hub in Dubai. The reason we picked it? Because they had an offer we just couldn't refuse – a first class flight at an affordable price. (And by affordable I don't mean Ryanair-affordable but a reasonable value-for-money ratio that even mere mortals can afford once in a lifetime.) Of course our regular flight travels have now been ruined for life.
It's just past midnight here in Dubai but from this plush gold-and-blue trimmed couch in the first class lounge I see several waiters and bartenders hovering, just waiting for a sign to bring me a drink – from the possible five refreshment stations. A few steps away there's a full dinner buffet (including sushi!) and my dear husband has just stopped by to let me know that I have a massage booked in 15 minutes, compliments of Emirates. Definitely spoiled rotten for life.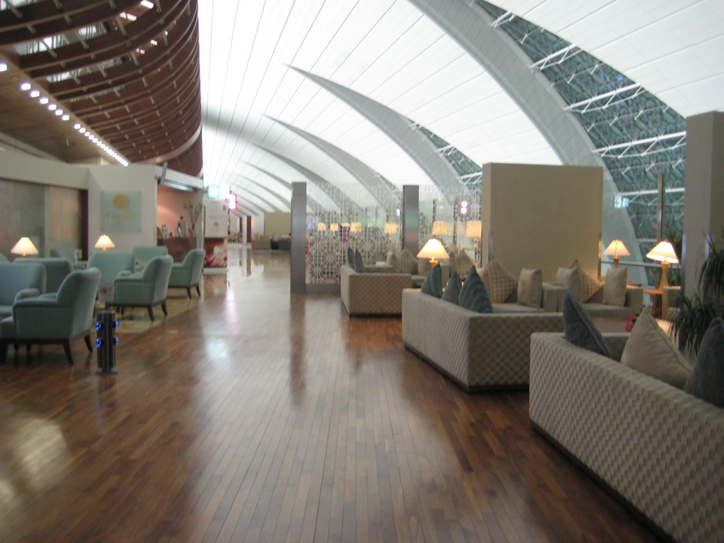 The flight was quite nice as well. Dinner and movies on demand, all the alcohol you could possibly drink (we were quite behaved with just a couple of glasses of champagne and some wine with dinner). Dinner of course was a four course affair a la carte. Table cloth, little bottles of condiments and 5 types of breads, including garlic bread and timed arrivals of the meals as to avoid interrupting our inflight movies (although most of "Knight and Day" is worth interrupting).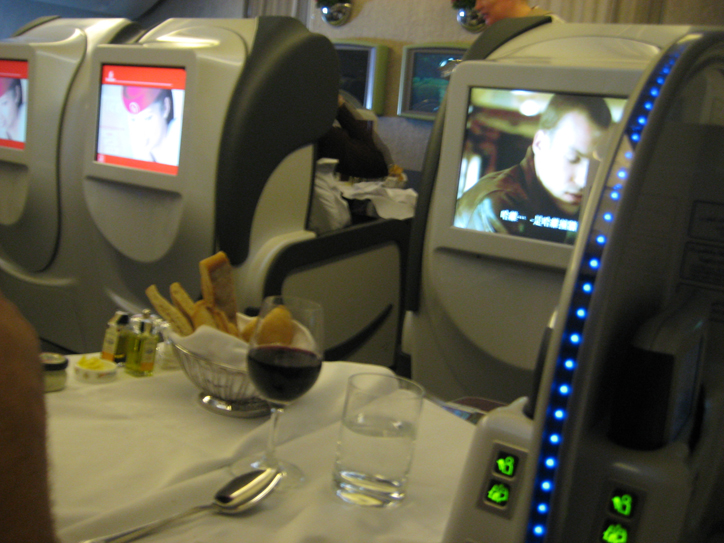 Did I mention the amazing leg room we had?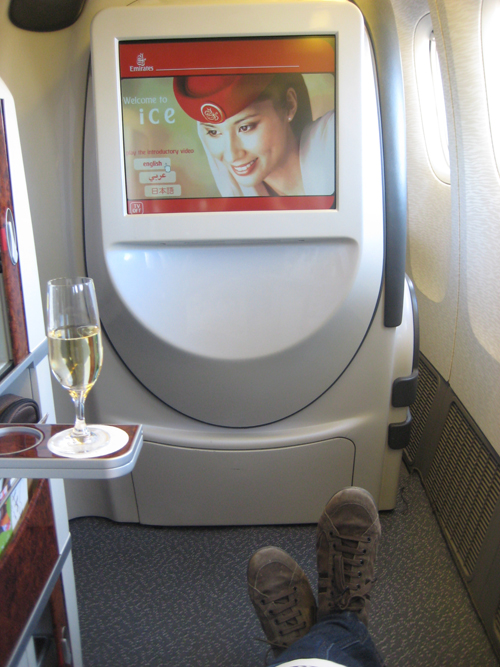 The seat in flat mode was longer than a regular bed and with room to spare at the feet to walk around. They even offered us duvets. DUVETS! Also a mattress to make things even softer. There were two other passengers along with us in first class and we had three flight-attendants to take care of us all. Not a bad ratio. Each seat included noise canceling headphones, touch screen remote (with access to outdoor cameras mounted on the plane) and a stocked mini-bar with sodas and water.
Having seen and experienced the first class lounge in Dubai we now understand why the hostess at the Alitalia lounge in Rome explained to us (apologetically) that the lounge was mixed and not an exclusive Emirates lounge. Here in Dubai it's a mini resort; in Rome it was a waiting area with free coffee and peanuts.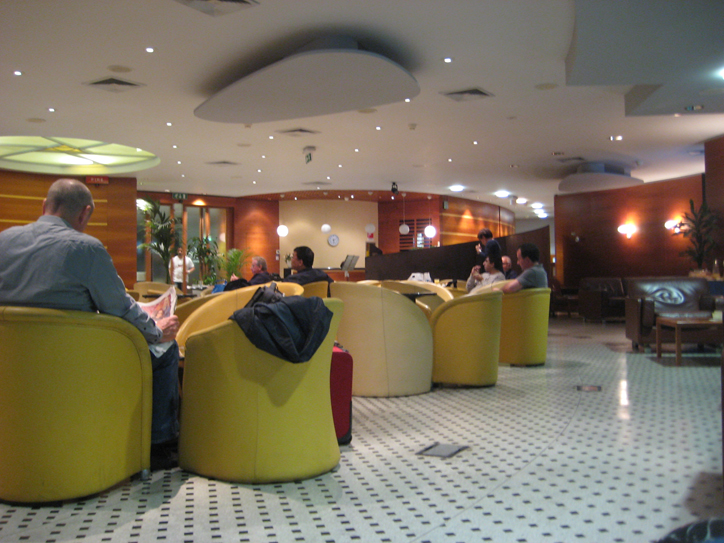 We could have posted this from the lounge here in Dubai but we are just mid-way to Asia, with the most interesting part still before us: our next plane is a brand new Airbus 380 double decker. Shower at 10,000 meters, anybody? Although some recommend we do something entirely different at that altitude.
Remember that whole 'spoiled rotten for life' part from the first leg of our trip? Well if the first one had left us cold in any way, which it didn't, then the second part would have even the most seasoned of travelers on his knees. Words would not do justice to the sheer opulence and luxury that we wallowed in for the next 8 hours, so we took lots of pictures instead.
7 Responses to "First class"