While the 1000 year festival was going on in Hanoi, every morning began with an hour of music piped through loudspeakers onto the streets. The music was a mixture between opera and Vietnamese folksong and I have to admit that I quite enjoyed listening to it because it really makes you feel far, far away from home. The schedule is a bit on the early side with music starting at 6am but on the other hand Hanoi goes to bed early – you'd be hard pressed to find an open bar after midnight – so it makes sense to rouse people early.
We've had some serious sensory overload here in Vietnam because there are just so many different sounds, sights and tastes to take in every minute. Starting with the language, which is actually a blessing after Korean because the Vietnamese use a modified version of the Western alphabet. They've just added lots and lots of accents. Sometimes accents on top of accents: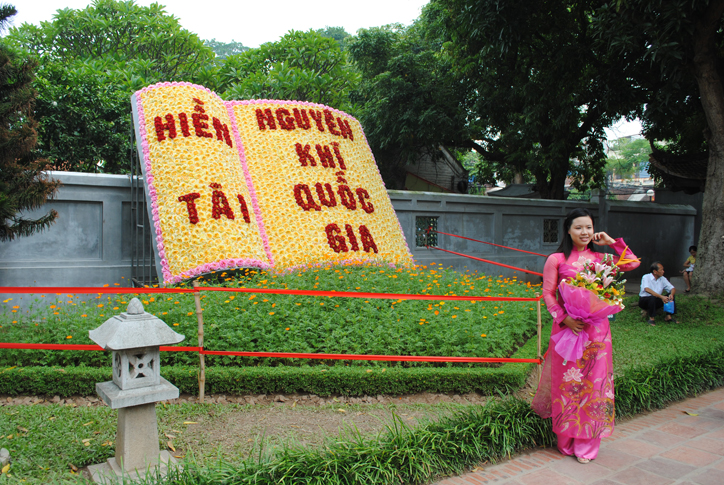 But at least we can pretend to read things and find our way a bit easier. Speaking Vietnamese is so full of pitfalls that we have pretty much avoided it whenever we can. "Thank you", for example, is "cảm ơn" but it is pronounced 'Cam eh' or 'Gam uh'. 'Cam on' or 'Cam oh' on the other hand – which is how most people obviously pronounce it at first – means "shut up". We've decided to stick to Thank You and big smiles instead.
The tastes of Vietnam have been very exciting to say the least. From street food to restaurant fare, there's never a dull moment. One of our tastiest dinners was probably bun bo nam bo at a long tunnel-hole in the wall somewhere in the old quarter. The tunnel starts with an assembly line kitchen and diners follow long metal benches inside to sit on communal style. We signaled for a waitress on the left, ordering two of whatever they were serving and immediately two steaming bowls appeared on our right: talk about fast service.
Bun bo nam bo consists of fried beef (bo) strips on top of rice noodles and herbs, sprinkled with fried onions and peanuts. Top it all off with fresh chili, if you like, and you have yourself a perfect meal. Unfortunately we've been very bad about taking pictures of our food even though we keep reminding ourselves. But we usually forget this by the time the food arrives in front of us and looks all tasty. Will try and get better about that…
For now, we'll leave you with this gem we shot from the terrace above one of the busier intersections in the city. (Note particularly the pedestrians. No fear!)
More photos in the gallery
6 Responses to "Goooood morning Viet Nam!"