Thank you everyone for your comments and thoughts! We arrived safely in Santiago this afternoon after only a couple of detours on the highway. The roads from Santa Cruz to Santiago were mostly fine in fact. We saw a couple of bridges that had collapsed but most affected the highway leading south so we were lucky.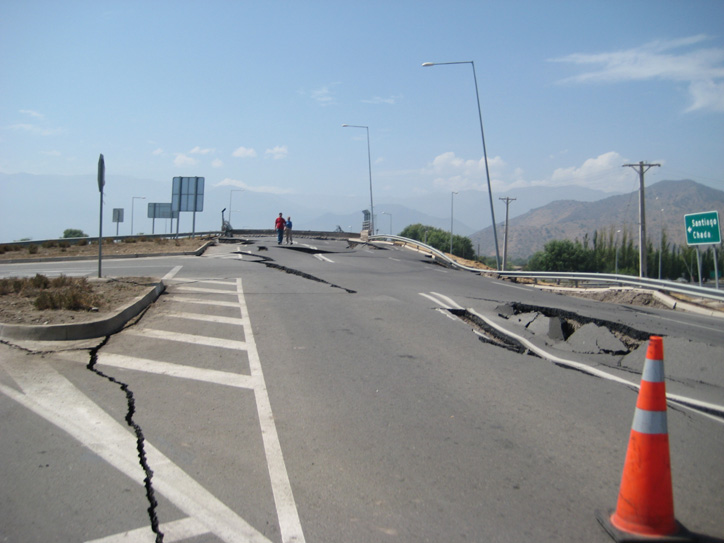 Once we hit the highway at San Fernando we also found an open gas station (very important since we only had about a third of a tank) so we managed to get to Santiago in just 4 hours, which considering the circumstances is probably a pretty good time!
One of the main problems was the lack of information. We didn't know whether the roads would be open since everyone gave us a different accounts of what they'd heard, no one knew whether there'd be gas available on the road or even if Santiago still existed. A few people made the situation out to be much worse than it really was and possibly for some it was since there were people living in tents and collecting money and anything else available for funerals, repairs, food and other basic necessities. But this was also one of the reasons why we decided to leave: there wasn't much we could do to help physically. Instead of taking up valuable resources like food and water, we preferred to leave our cash with Anne at the hotel to distribute in town as she saw fit.
When the papers from Santiago made it through this morning to Santa Cruz we decided that we'd also be able to make it no matter how long it took so we packed our little Suzuki to the gills (including a couple on their honeymoon who decided last minute that touring the wine country wasn't such a great idea these days after all) and we made it to Veronica's house in time for lunch and some excellent home-made pisco sours. So yes, we're more than okay and now we're just hoping that they re-open the airport in time for us to fly to Caracas in three days.
We would have probably stayed quite comfortably at our hotel as well – our hosts Anne and Eduardo did everything they could to accomodate everyone. They even cooked a first-class barbeque last night for all the hotel guests because obviously there were no restaurants open anywhere. It ended up being a wonderful evening with everyone pitching in (Conor got blisters from cutting potatoes), sitting around a long table in the yard with candle light and bottles of wine. We can only recommend the TerraViña, be it in time of crisis or for a lovely holiday to explore the Colchagua valley and its vineyards.
We can't wait to see you all again – some of you very soon – but until then, thanks again for your messages, emails, comments and care. Sending you all lots of love from Chile!
2 Responses to "Safe in Santiago"