We were supposed to fly to Madrid today which was very exciting because even though we lived in Barcelona for 6 years, we never made it to Madrid. Not even once. So when we finally got our act together, bought a ticket and got all excited about seeing the Prado and the CosmoCaixa, let alone ride on the AVE to Barcelona in the perfect seats (right behind the driver!), imagine the let down when Eyjafjallajökull decided that now was an excellent time to spew some ash, cough up some grit and ruin the fun for everybody.
We haven't given up on our trip to Spain yet (hello 10 hour car ride) but Madrid has been shelved once again. Maybe the powers that be don't want us to see the Spanish capital for some strange reason? We'll drive to Barcelona instead, see family and friends and gorge ourselves on calçots and other assorted goodies.
We'll also be in Barcelona for Sant Jordi which is great fun because the Catalans are usually very good about celebrating their saints. Depending on the occasion there can be fireworks, picnics at the beach, special foods… In addition to being the patron saint of Cataluña, Sant Jordi has also become "the lovers' saint" over the years and Sant Jordi is now celebrated much like Valentine's day but with flowers for the women and books for men. Downtown Barcelona is decked out with long tables of books and roses for sale and there are special exhibitions all around the city about literature and Sant Jordi. We will definitely head to the Ayuntamiento de Gracia where they're having an exhibition about a book called "La Merienda del Señor Verde" by Javier Sáez Castán.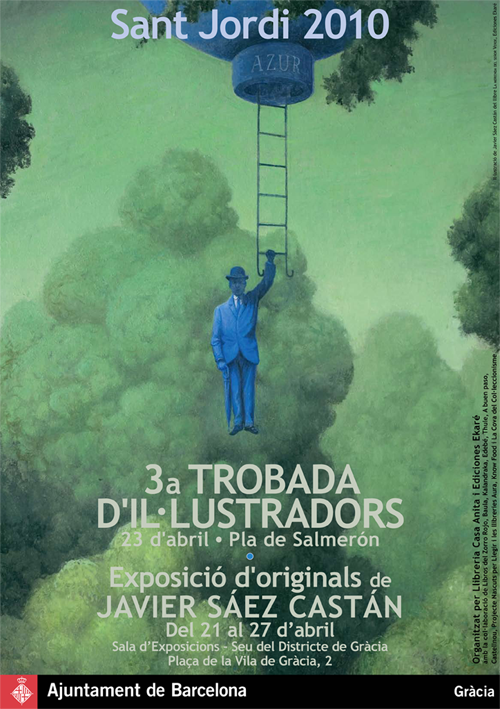 And we'll try to keep things more up-to-date here as well, even though we're once again on a summer hiatus from 'real travel'. Happy Sant Jordi everyone!
2 Responses to "The Volcano Did It"