In the past week, we've seen a goat and donkey show, watched some gloworms get it on and had a grand idea for making a quick buck with a magnet. We didn't make it to the town shown above in the picture unfortunately but if you're curious, it's got the longest place name in any English-speaking country. Wisely, locals shorten it to Taumata to ease conversation.
We zig-zagged our way up the north island going from east to west and back again (because it really is very, very small) and have now landed just outside Hamilton in beautiful farm country. This is not where the goat and donkey show happened though, that was further south in Waitomo, the village of caves and gloworms.
Waitomo is famous for its gigantic network of underground limestone caves and the gloworms that inhabit them. 8 years ago we did an action packed black water rafting tour that included abseiling, tubing, rock climbing and a flying fox line. But we're older now (and I had a cold) so we opted for the sedate and pretty 'Spellbound' tour instead. Incidentally a tour through the same cave that Sir David Attenborough filmed for his latest BBC show, "Planet Earth" so not too shabby!
The tour starts in a 'dry' cave, i.e. one without water running through it. This means that there aren't too many gloworms because they love water but there were enough for Hop, our guide, to give us a little introduction to their lives. It all starts with fratricide and quickly goes downhill from there. The female lays several rounds of eggs and the first worm to hatch in any lot proceeds to eat his brothers and sisters for nourishment. Once it has established the groundrules, if you will, it starts creating skinny, slimy little threads that hang all around the worm like a particularly violent sneeze. The threads catch small insects which the worm injects with a coagulant before it slurps out the liquified insides. After 9 months of these fun and games, the worm pupates and turns into the fungus gnat fly which looks much like a mosquito but doesn't have a mouth so its flying days are a) short and b) filled with copulation (a champion fungus gnat fly will live for about 3 days).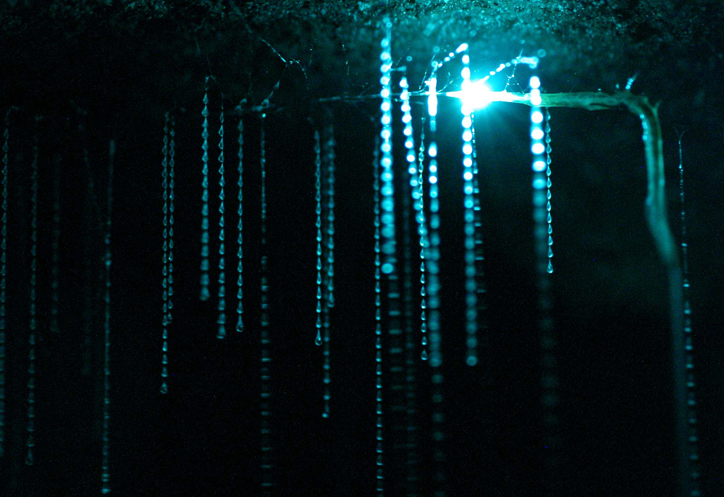 Our B&B for the night was attached to a little animal park which we were free to wander round in throughout our stay. They had mostly farm animals (sheep, goats, donkeys, horses, ducks and pigs) but also some deer, a couple of menacing looking emus and different types of parrots, pheasants and budgerigars. This is where we were treated to a spontaneous round of entertainment courtesy of a cheeky goat and her props:
As for our grand idea to make a quick buck, that came to us during yet another cave visit. This one was an underwater cave where the Hamurana spring bubbles forth in a crystal clear little brook. As is so often the case when humans are confronted with water and a vertical hole, they have to throw in some coins. Seeing all the riches twinkle at the bottom of the spring, we thought it'd be a great idea to bring in a giant magnet and pick them all up. We'd be millionaires! Not 5 minutes later, three shaggy teenagers and a reluctant girlfriend show up with a very long coil of rope and a pancake-sized home-made magnet attached to it. We were obviously not the first to think of this…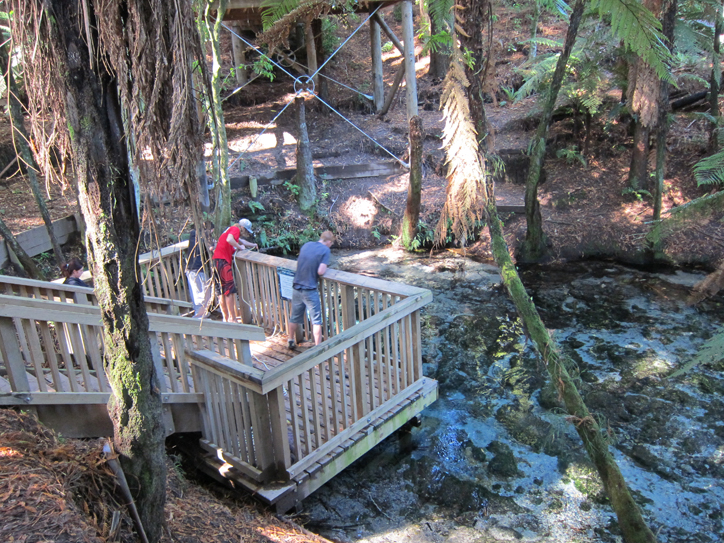 More photos in the gallery
4 Responses to "Of Worms and Other Animals"