The last time we were here in New Zealand, 8 years ago, we travelled with a tribe of gap year backpackers on the Kiwi Experience bus. It was a great trip but very different from the one we're doing now which regularly features private bathrooms and few fancy dress parties. We're intentionally staying only on the north island this time since we spent most of our time on the south island back then (and seeing the daily TV coverage of Christchurch we're quite happy about this decision). We're also trying to take a new route, not a mean feat in a country the size of NZ, to see some different things but a few places we returned to on purpose to see how they match up to our memory.
Top of that list was the Tongariro crossing. This day trek is often called the best one-day trek in all of New Zealand but when we did it 8 years ago, it was as close to a disaster as could be. It was already drizzling at the bottom of the mountains when we began our hike that day and it only got worse. By the time we reached the ridge that climbs to the highest point, the winds were battering us so fiercely that we had to physically hold on to rocks so as not to be blown over the side of the mountain. To illustrate the story, here's a picture from that lovely day:
Now compare and contrast with our truly beautiful ascent two days ago: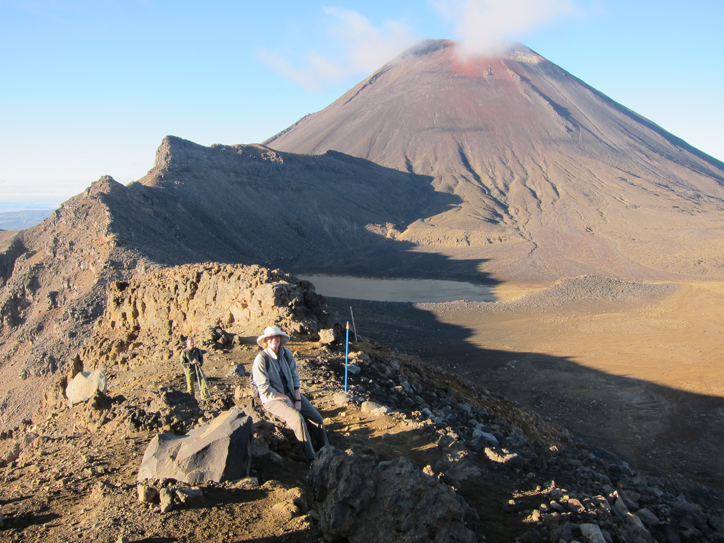 We tried to take a few before-and-after shots since it was a beautiful day and we were making good time. So here are a few more for your amusement: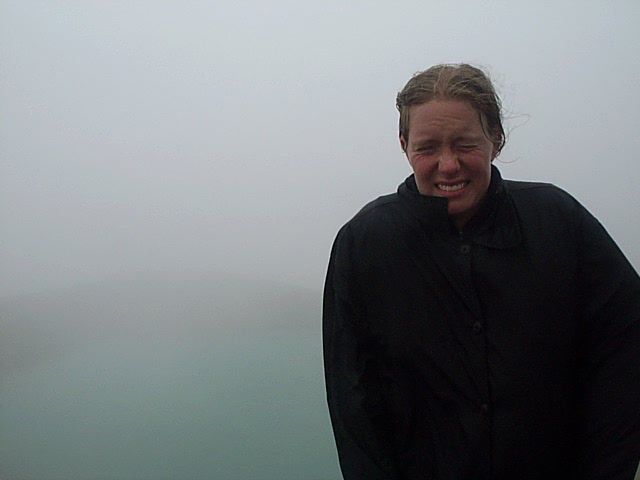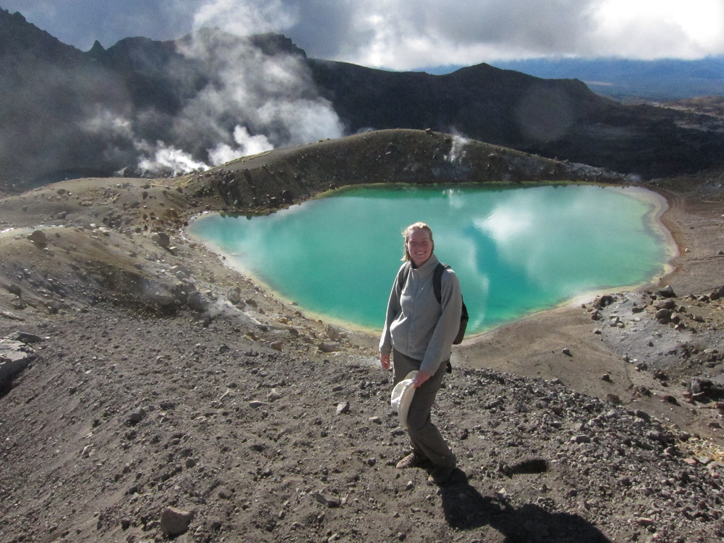 Do make sure to hold your mouse over the images to get Nora's commentary on the current situation. In fact many of our images have mouse over so now might be a good time to revist your favorite old posts and check those out.
The Tongariro crossing is 19.4 kilometers long and can easily be done in a single day, the average hiker takes about 7 hours to complete the crossing. The hardest part is the final descent which seems interminable but has good views, making you feel like you're almost there for the final two hours.
What makes New Zeland such a great trekking country is that one never has to worry about what vicious animal might be hiding behind the next turn. My brother was once attacked by the dangerous Coati – the perils that lurk in the South American forests are many. The worst that can crawl into your sleeping bag here is a hedgehog. Although it might not be pleasant to wake up with a hedgehog for a bedmate, I don't think a coroner's cause of death report has ever listed "death by hedgehog".
More photos in the gallery
5 Responses to "What a Difference a Day Makes"