We were woken up early Wednesday morning by gentle singing followed by very loud cow bells ringing – Chalandamarz is here!
Chalandamarz means March 1st in Rumantsch (chalanda = first of the month, marz = self-explanatory). Rumantsch is the language spoken in Switzerland's Grisons canton, "Graubünden" in German. Traditionally, the first day of March marks the beginning of the new year, the coming of Spring, and time to get rid of Winter with lots of loud noises. Each village has their own gang of kids and youths who form a procession that tours all day long around the village, visiting houses, stores and street corners to sing songs, ring giant cow bells and let the whips fly. Yes, kids with whips. Whatever could go wrong?!
All through February you see the kids practicing their whipping skills around the village, usually in the schoolhouse yard but occasionally just in front of their house or down a little alley. During one of those 'solitary' training sessions we saw a kid hit himself in the eye which was obviously painful but he just glared at us, probably for having noticed.
Unfortunately we only got to see them training and not the official display on the 1st since we've already left Zuoz but we did get to hear the singing and cow bell ringing since that starts the morning before.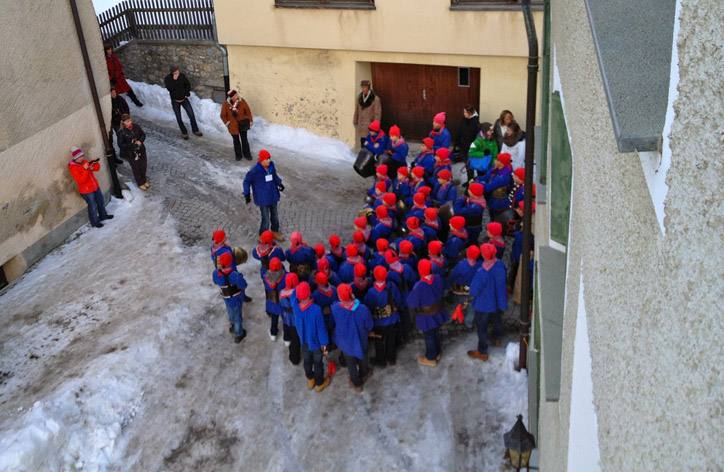 To give you an idea just how loud the bells are (at around 7am, mind you):
There are even a couple of statues dedicated to the Chalandamarz kids in Zuoz. This one stands in front of the Café Klarer.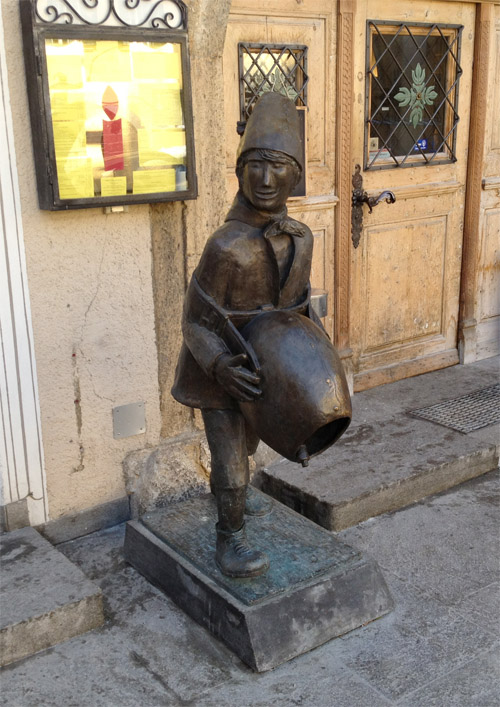 (And here's a fun picture of Chalandamarz 1937 in Zernez, a village down the valley from Zuoz.)
3 Responses to "Chalandamarz"