We planned to visit Governor's Island today. It's a small island off the southern tip of Manhattan. One can rent bikes and explore gardens and forts. But as we arrived at the South Ferry terminal there was police everywhere.
We had our bag sniffed by a police dog and as we finally arrived at the ferry terminal building it was cordoned off. A construction site next to the building was being evacuated, at first we thought some kind of accident had occurred. But then we noticed sidewalks further away were being cordoned off as well and the road was going to be shut down. We approached a police officer who told us the president was flying in and that the ferry to Governor's Island would not be running at noon. He couldn't even promise the one o'clock ferry would run as the president was already running late. Obviously he couldn't be specific about the president's schedule, if he knew it at all. Previously we crossed paths with Obama in Tokyo were they closed off some train stations and forbid the use of lockers at almost all stations in Tokyo.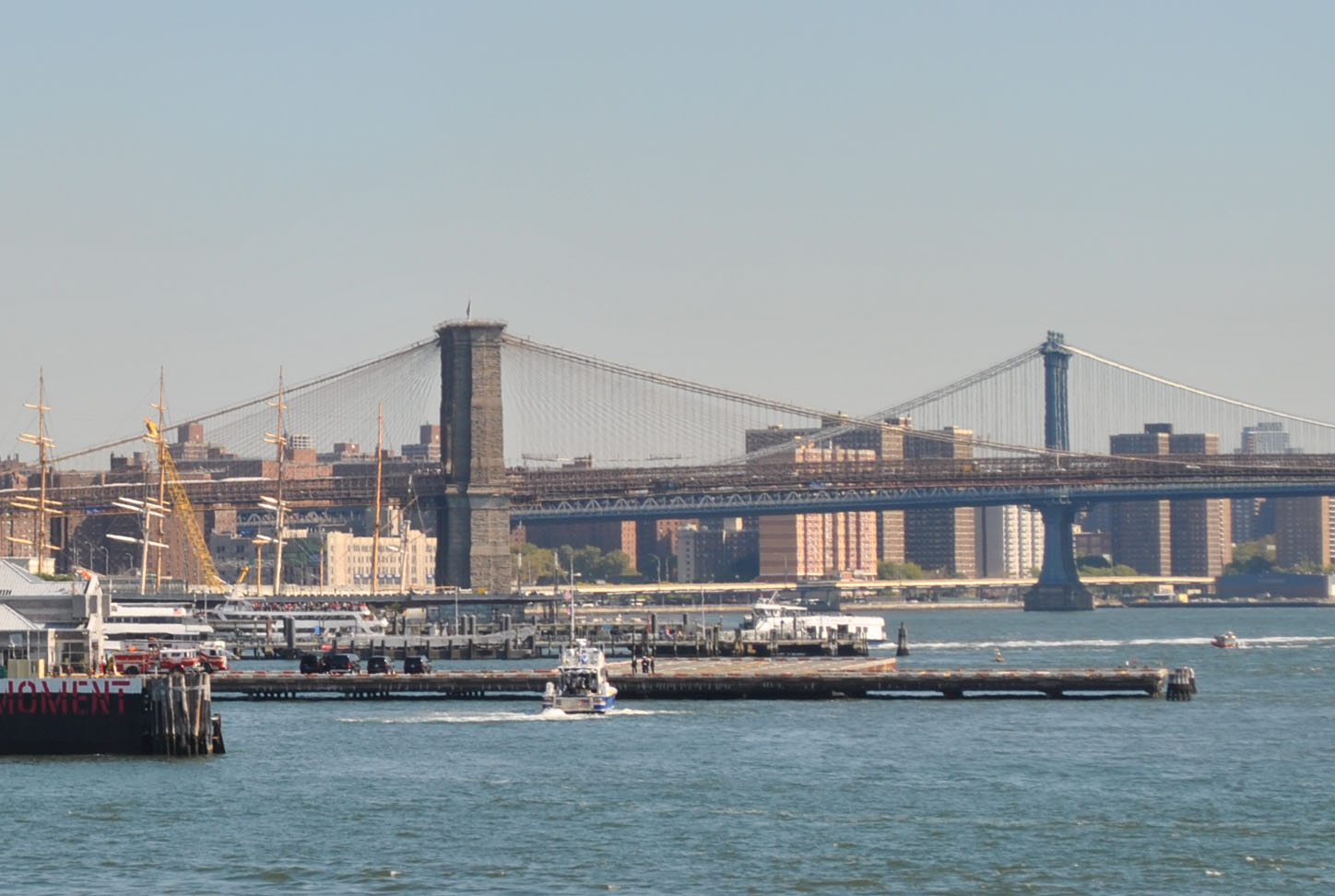 As soon as we heard it was Obama, it made sense that he was coming to give a speech at the U.N. Climate change conference that was happening in New York. (A climate march on Sunday plus big wigs arriving had already wrecked havoc for our friends in New Jersey to come have brunch with us.) What did not make sense was if he was willing to change to a helicopter why was he landing so far away from the U.N.? There clearly should be a roof near the U.N. he can land on? No need to displace all those tourist helicopters from the South Manhattan helipad. Turns out he was not changing to a helicopter, he took a helicopter all the way from his house to New York since Marine One is now a helicopter that happens to turn into a plane. He can leave home in Washington D.C. and in a little over half an hour be in New York, a shorter commute than most Bronx residents.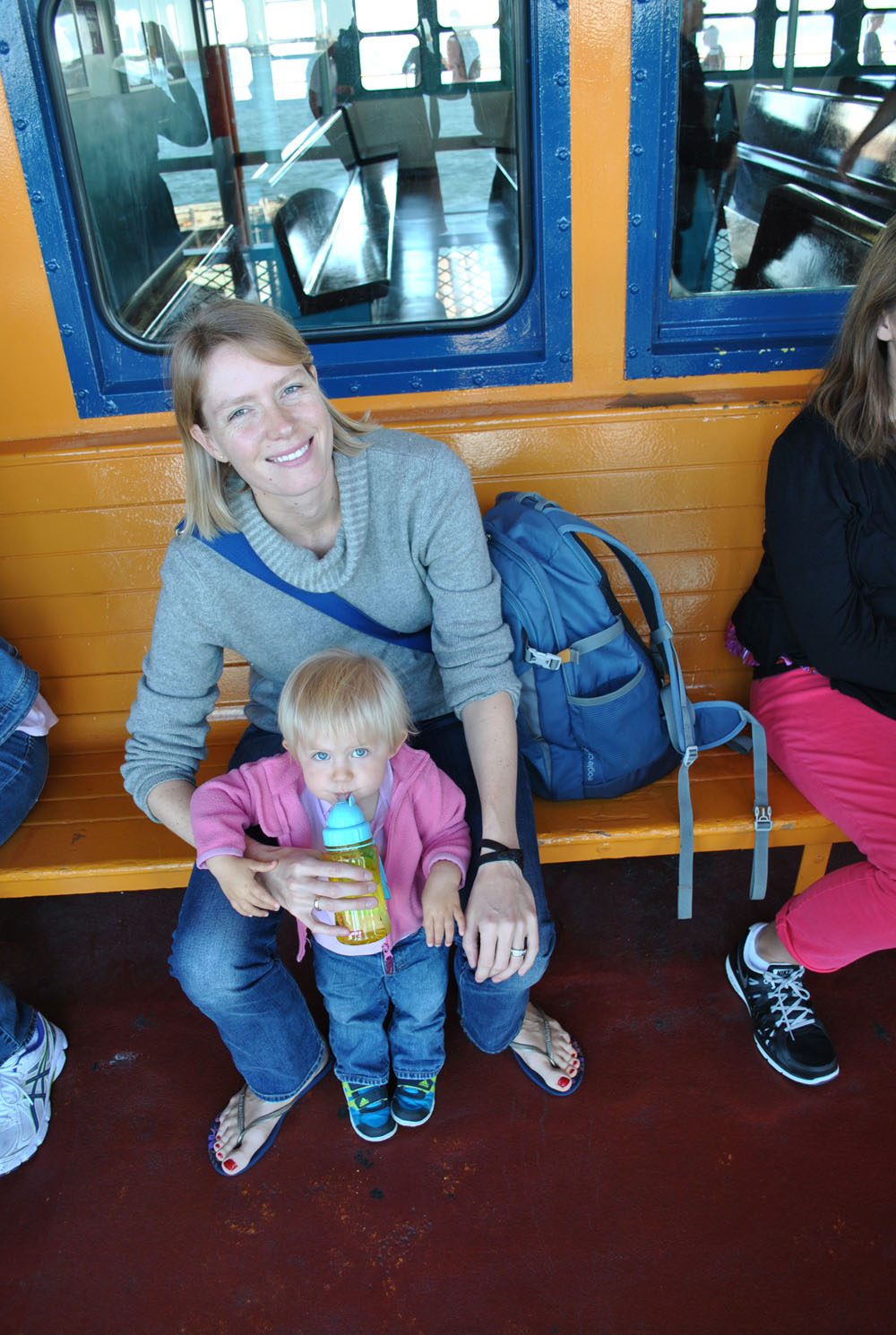 As cool as that was, we decided that it wasn't worth a lost trip to the South Ferry Terminal and so instead we headed to Staten Island. From the ferry ride we got a great view of the statue of liberty as well as the president landing.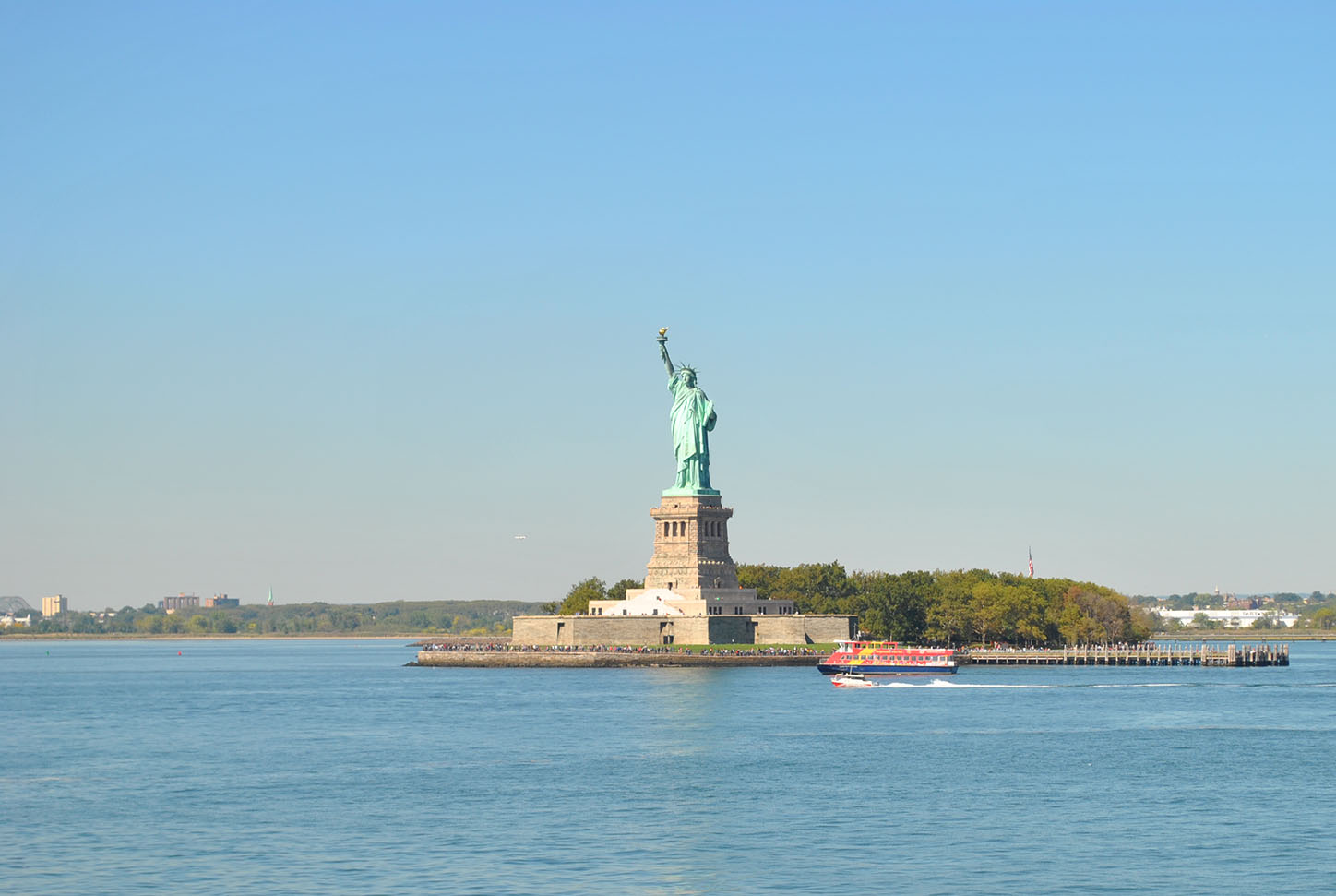 The heli-plane in question is a variation of the MV-22B Osprey. They can be seen below in both the plane and hover mode. Maybe it needs a little more space to land than a roof near the United Nations.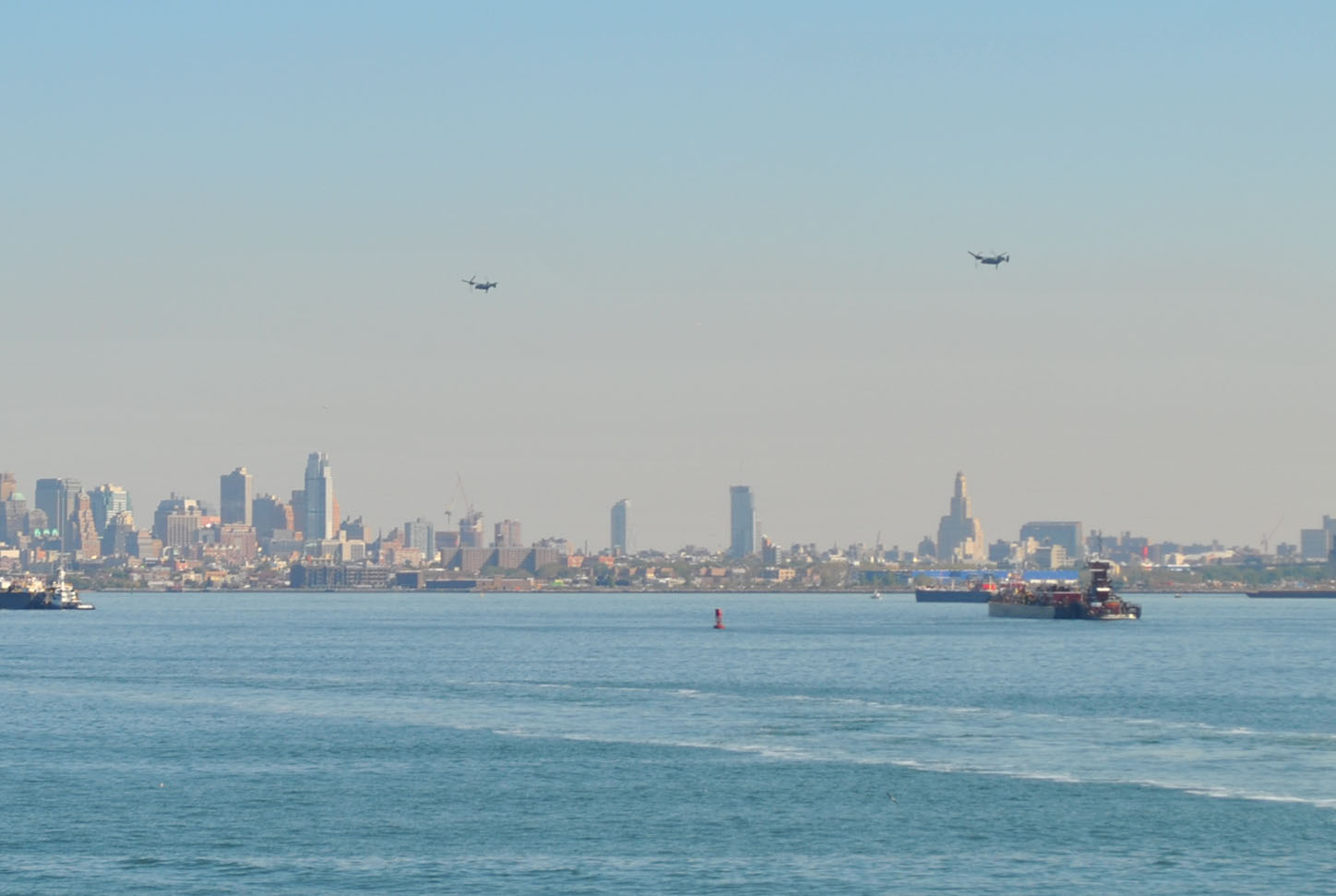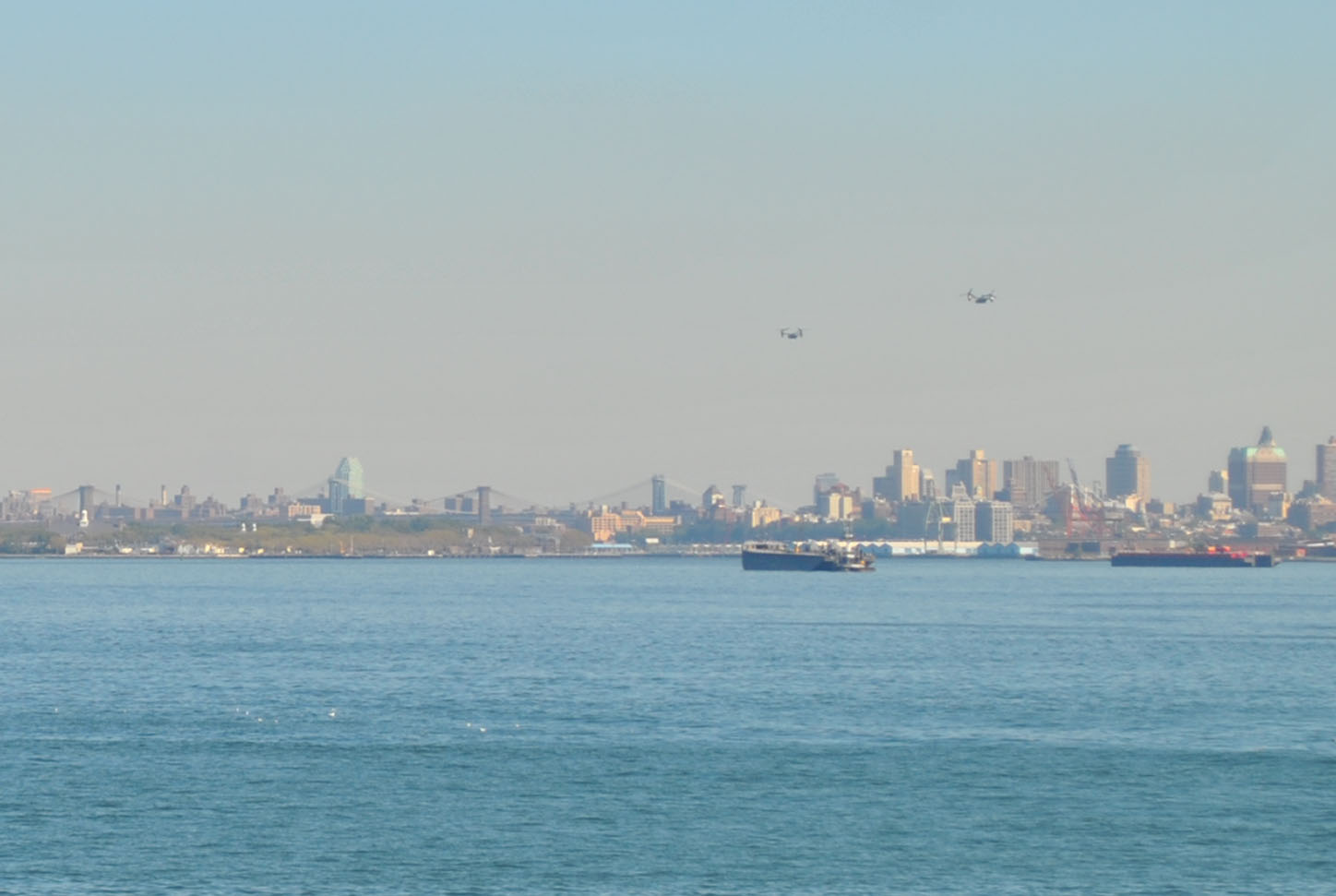 Nora actually saw the Osprey Helicopters on Saturday, as she visited a friend in Brooklyn, as they went back and forth practicing the landing and take off. We had assumed it was some kind of military exercise for landing and take off in case of emergency evacuations.