To counter the craziness in Hanoi, we spent three days in Ha Long Bay cruising around the majestic karsts of the South China sea. It really does look like the movies, think The Man With The Golden Gun even though that was filmed in Thailand; same same but different, as they say here. And at night when the sun sets and the mountains are cast in a smokey blue light, it's time to break out the poetry and cue the romantic music. Or if you were on our boat, order the third round of cocktails.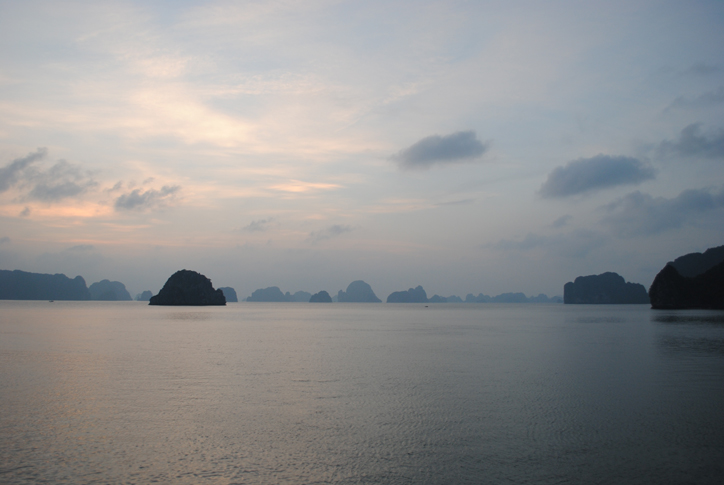 We spent our days eating, kayaking, swimming and eating some more. Breakfast was already a three course affair with Pho, Vietnam's national dish, followed by eggs on toast and fruits. Then we'd laze around a bit, waiting for the next meal. It was heaven.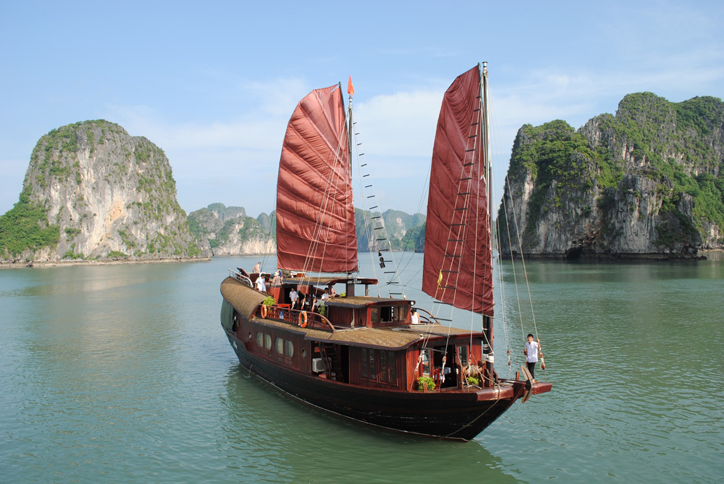 On our last evening, the crew set up a special dinner for us inside a cave on one of the tiny islands. It was incredibly kitschy but oh-so-beautiful: candles scattered throughout the cave, rose petals on the tables, muzak playing softly in the background and fresh seafood sizzling on the barbecue. (Which was obviously not inside the cave with us, smoke hazard and all…) Each course was accompanied by an elaborately carved decoration and there was singing and lots of clapping at the end. We, the honeymooners, even got a cake and flowers which the other guests were very grateful to share. 🙂
We had a fabulous guide on our boat, who answered all our questions about the area and its history and luckily also didn't shy away when we started grilling him about the intricacies of cooking dog (pun totally intended). Apparently yellow dogs are the best and the preferred method of preparing them is steaming because the meat is a bit tough. The meat is then served with a sauce of lime, chili, mint and sugar. Oh my… There is also a time frame for eating dog: it is best enjoyed during the waning moon, with the most auspicious day being on new moon. I guess that's the day you want to make sure Rover and Lassie are safely kept inside the house, especially if they have a yellow coat.
4 Responses to "The Dragon Pearl"