We arrived in New York a couple of days ago in the most fancy of ways: by boat. After crossing the Atlantic for 7 days and no company but the occasional pod of dolphins and far away container ship, the lights seemed even brighter than usual when we finally saw the coastline of New York. That was also the first time we saw stars on the entire trip. Go figure, we had to come to New York City to see stars!
But I should start at the beginning…
On the 8th we boarded the Queen Mary 2 in Southampton after a quick and uneventful train ride from Wimbledon. We could already tell that another family on the train was also headed for the boat since their three kids (1, 4 and 6 years old) were all decked out in ship-appropriate clothing like seersucker suits and adorable little caps. We felt a little underdressed, to say the least. But then again we only had to deal with two suitcases and a duffle bag instead of their 7(!) suitcases. That's the beauty of it though: there's no limit on your luggage on the boat. Everything that fits into your stateroom (never 'cabin'), can go.
So we arrived at the Terminal and because we got a fancy-pants upgrade for unknown reasons, we could go straight into the check-in line instead of having to wait with all the other passengers until our group would be called. (That upgrade was the best thing to ever happen to us: bigger stateroom, better restaurant, all sorts of privileges. We've been spoiled for life because now we can never go back to just 'regular' cruising… Sigh.)
After check-in and x-rays we walked onboard while watching our luggage being loaded and last minute fixes to the boat being done. Since the boat is never in port for longer than a day, if they can help it, all repairs must be done in those few hours when the ship is moored. It's absolute crazy town then because so many things have to happen at once: passengers leave, others get on, ditto for their luggage, food gets loaded, trash unloaded, fuel and water taken on. It's a mad ballet with superb timing.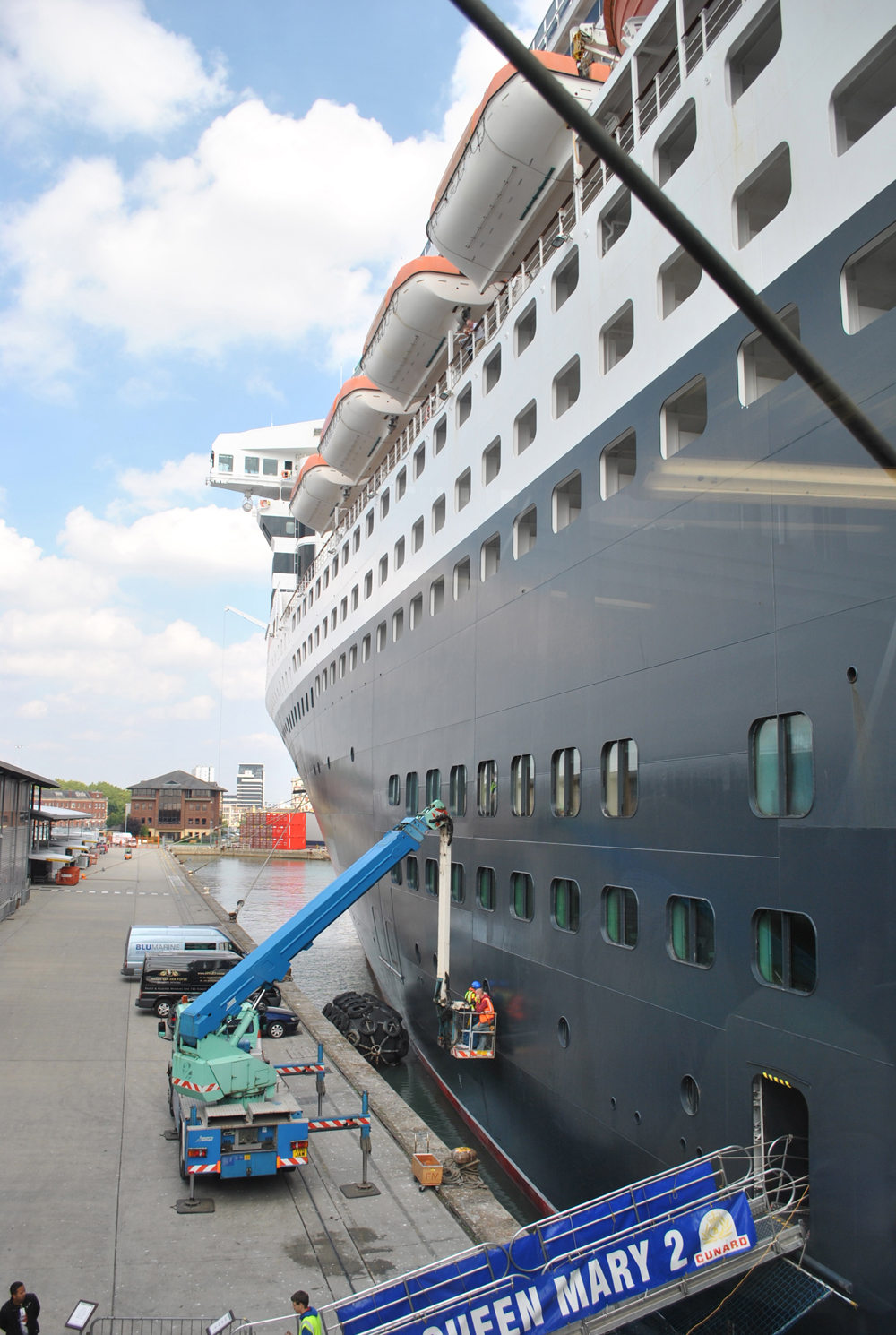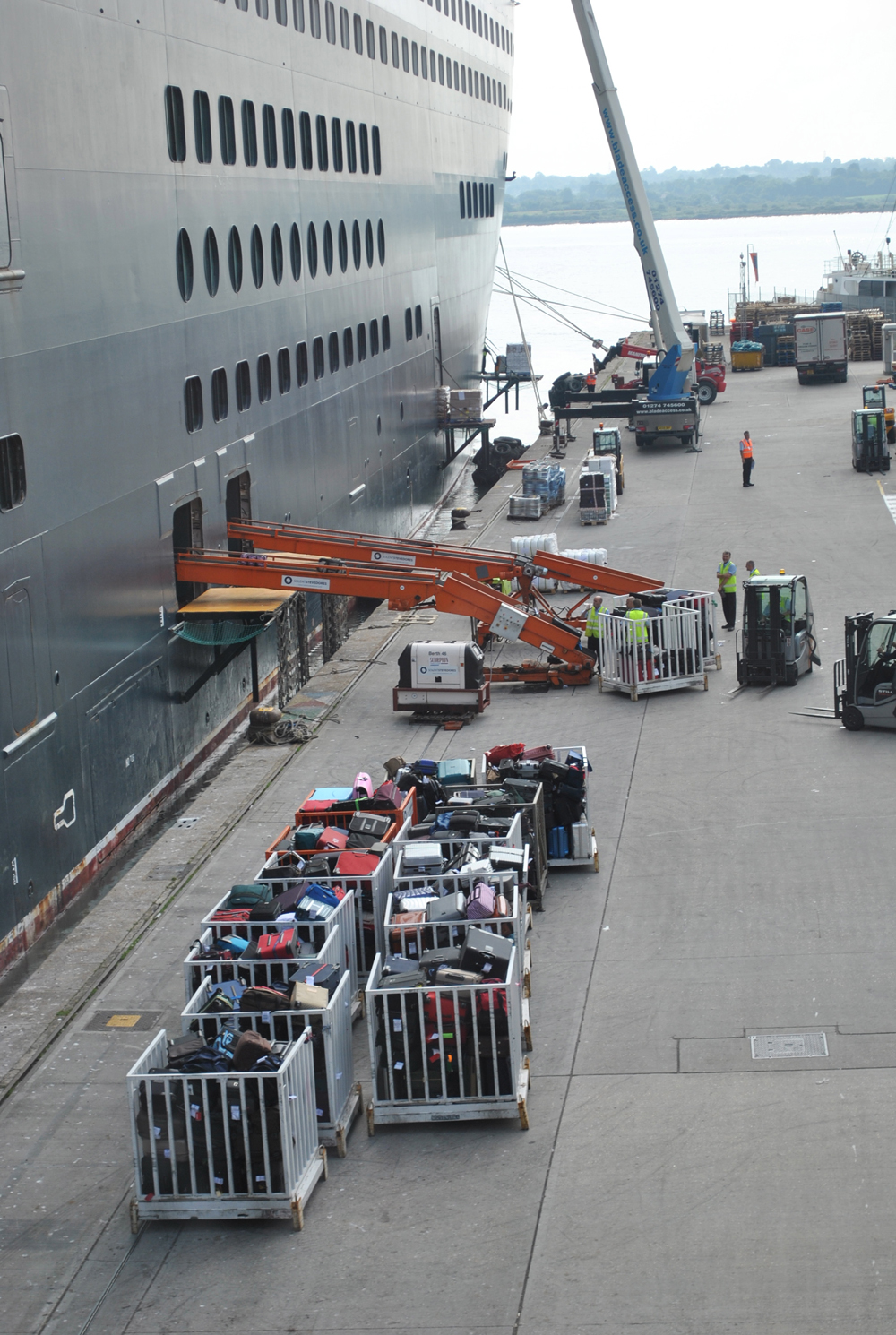 Then you walk in to the main lobby where you're directed to your cabin, sorry stateroom.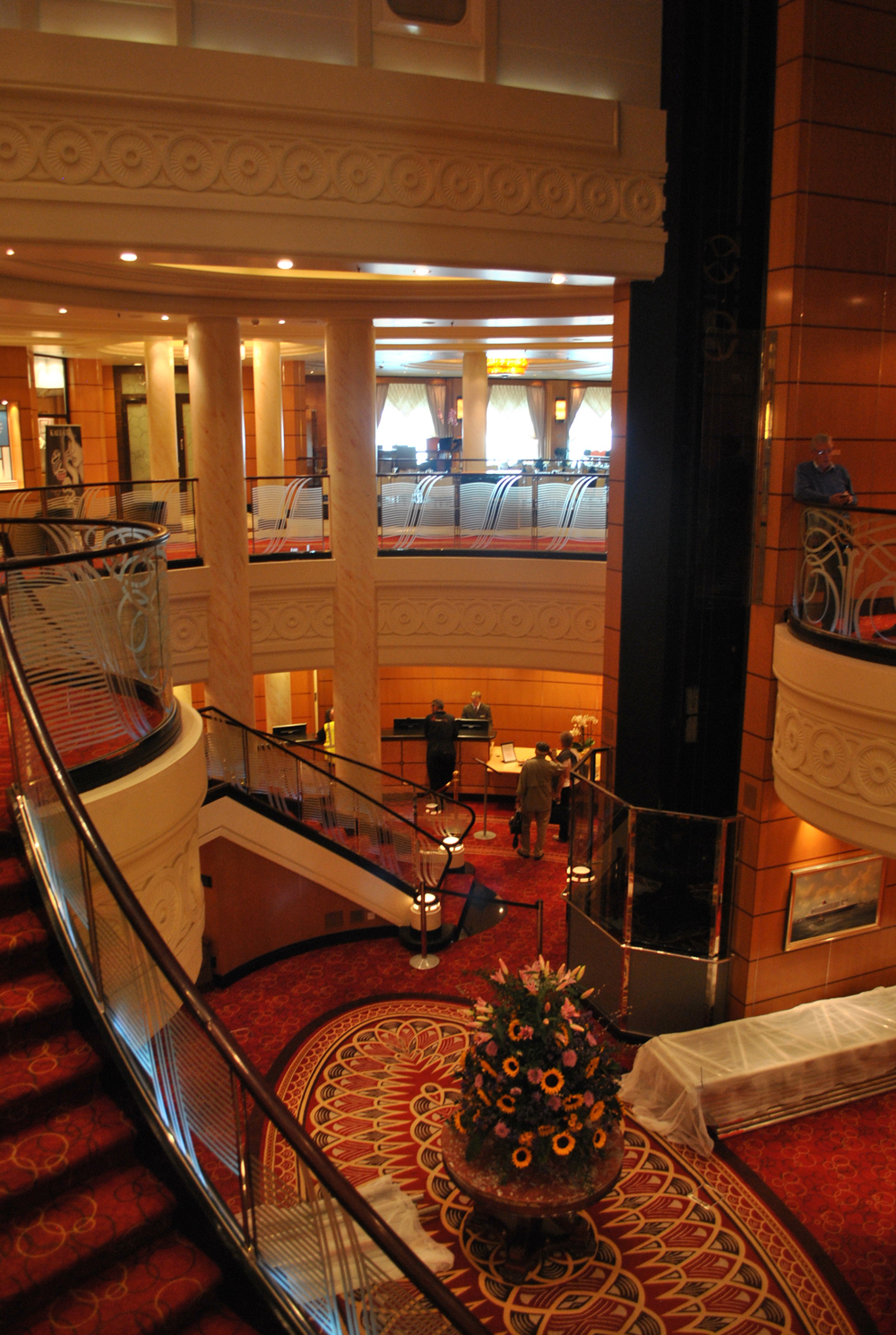 They weren't kidding. It's a freaking stateroom!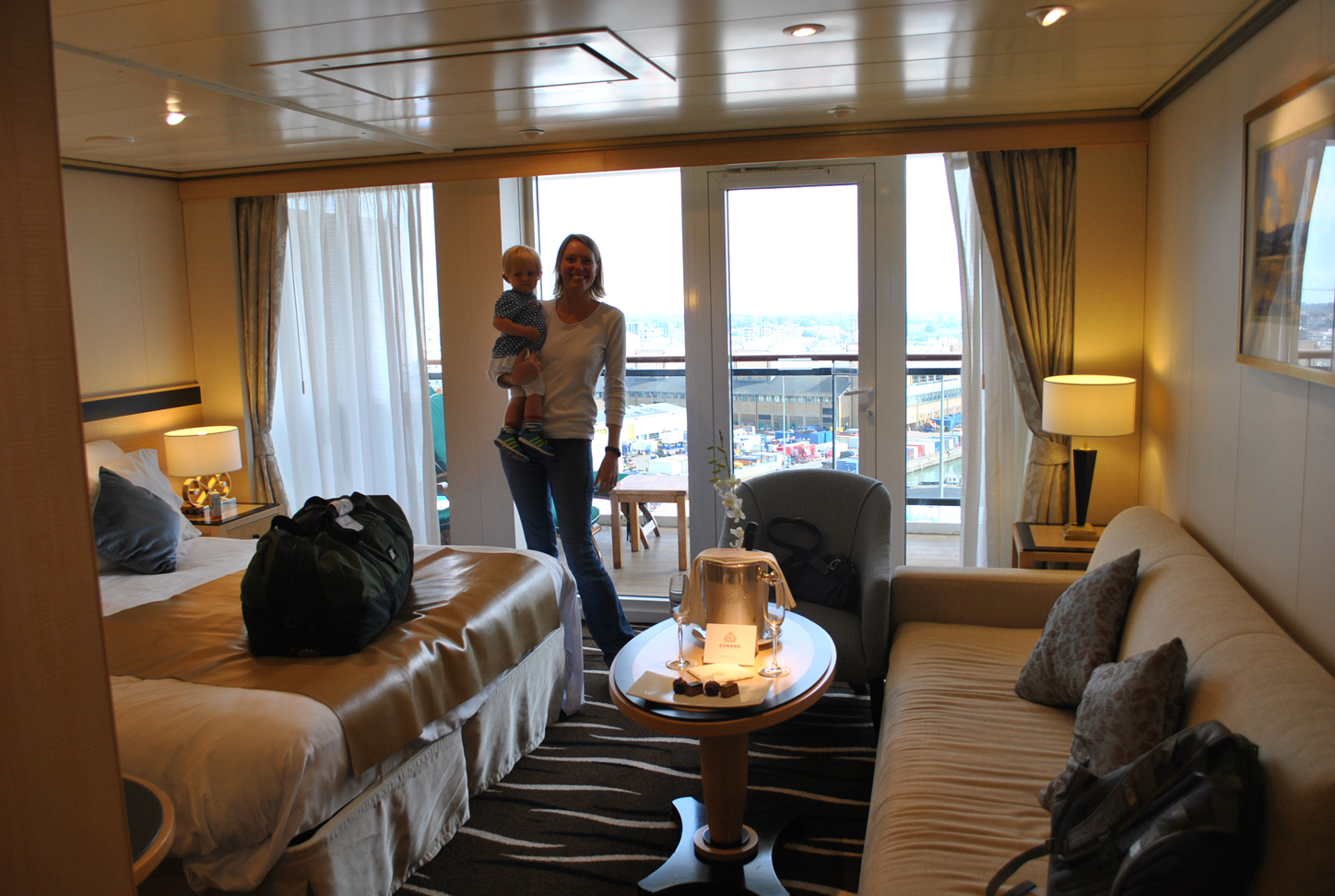 Then it was time to lift the anchors, or rather loosen the lines, and chug out into the Channel towards the open sea.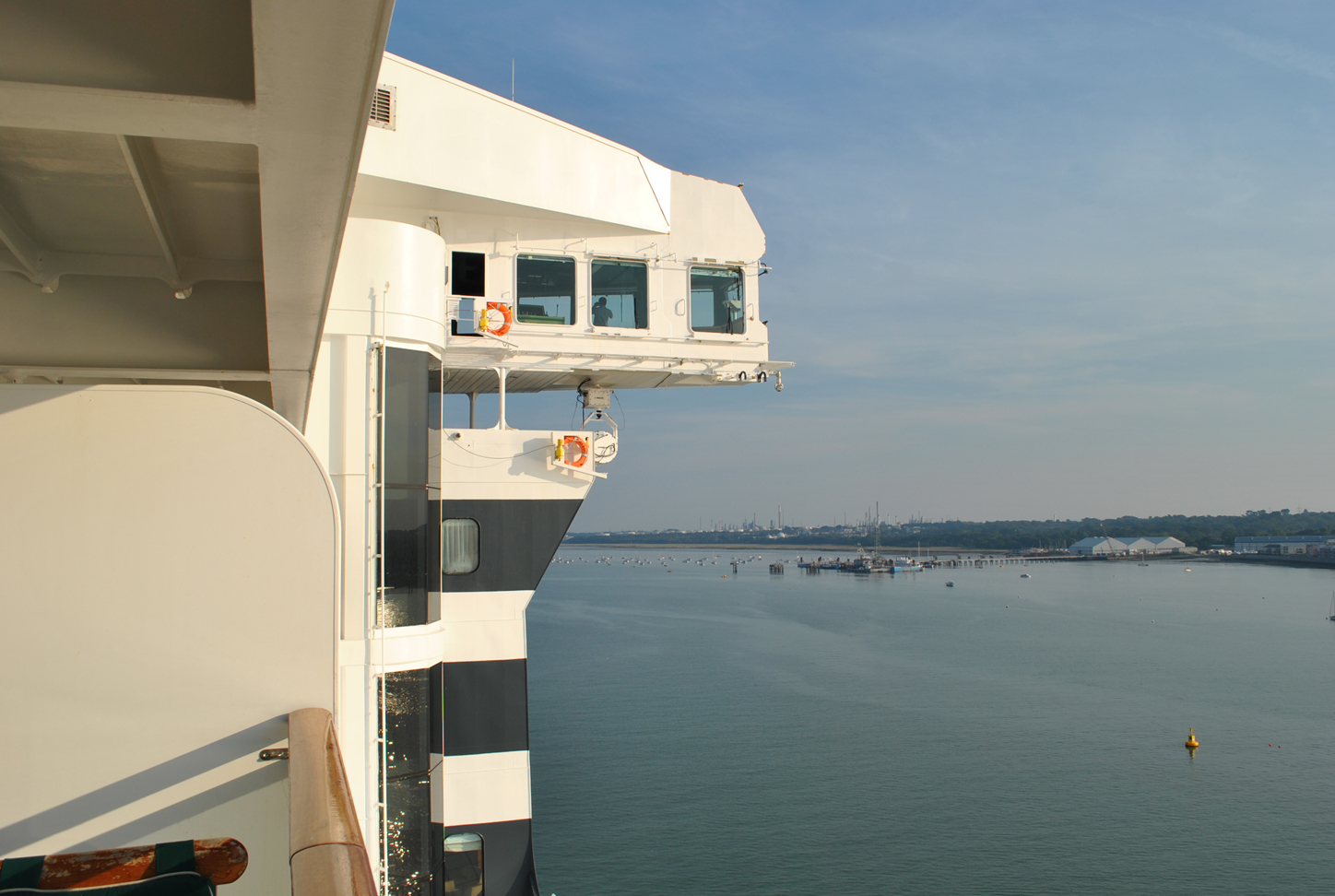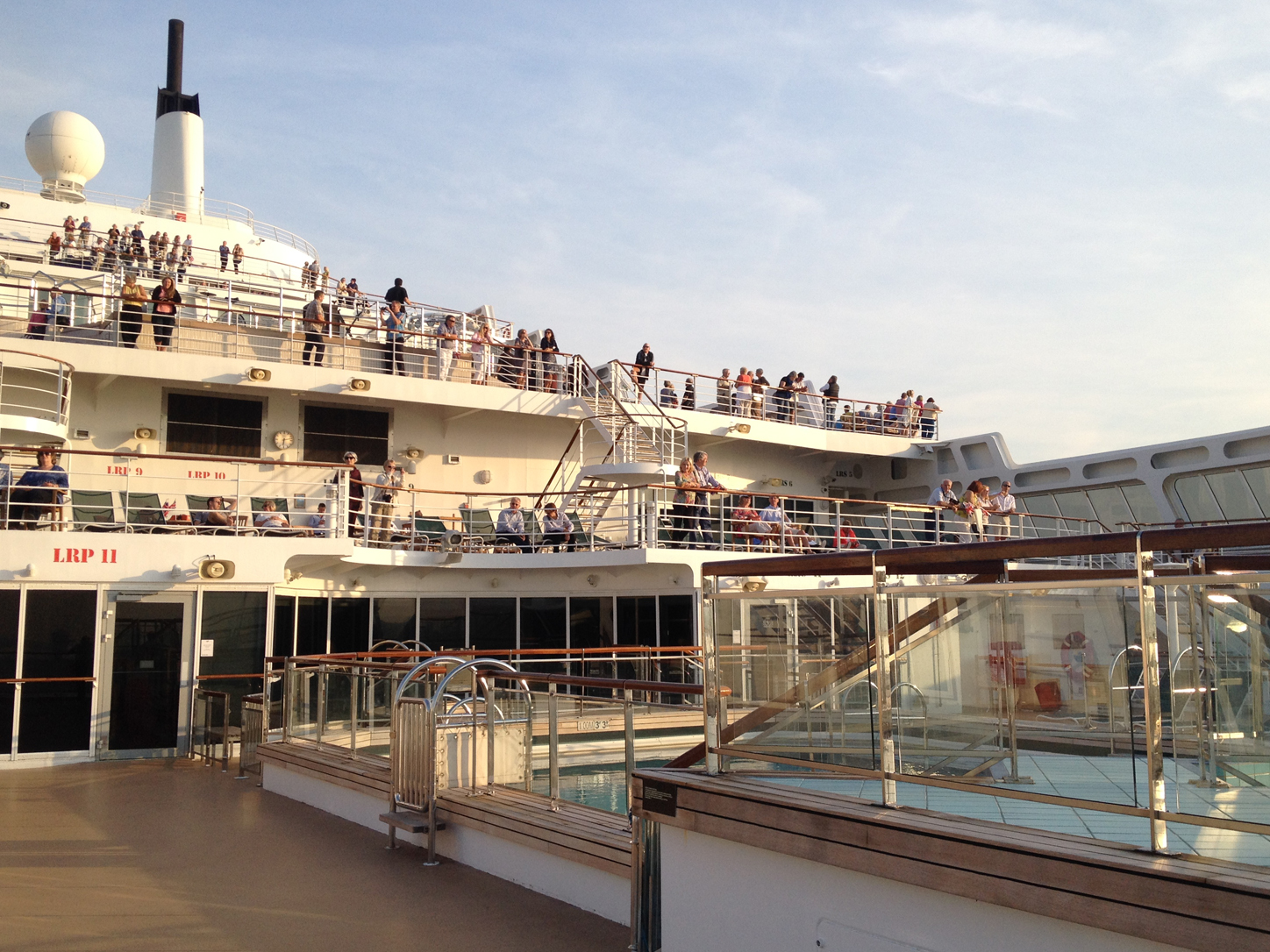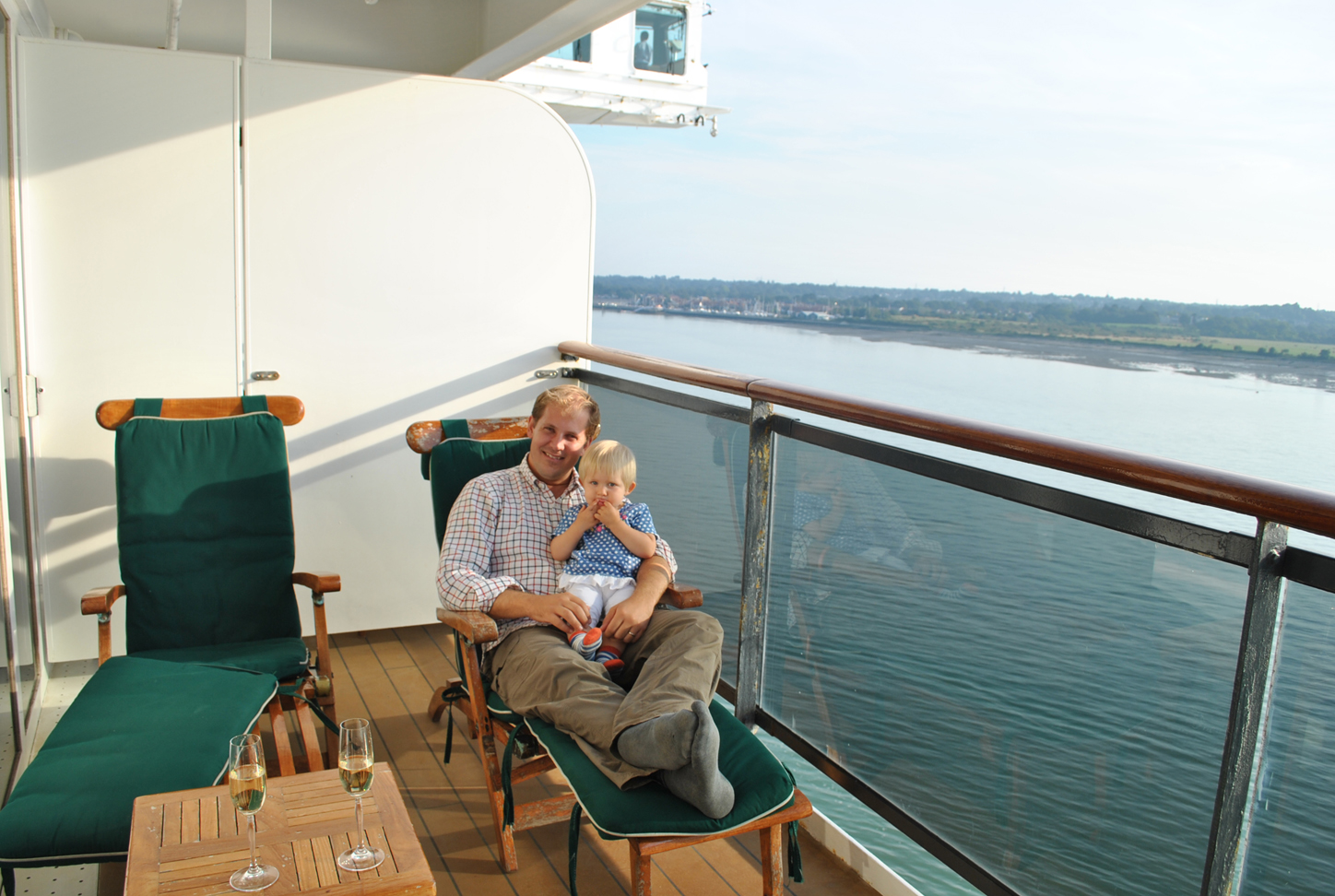 The Queen Mary 2 is absolutely enormous. Getting from one end of the ship to the other takes about 10 minutes walking and depending on where you're going an elevator ride or two as well. By the third day we had picked out our favorite routes which mostly involved the scenic elevator (windows all around) and walking on the promenade deck or the very top deck which was usually very windy but with beautiful views all around.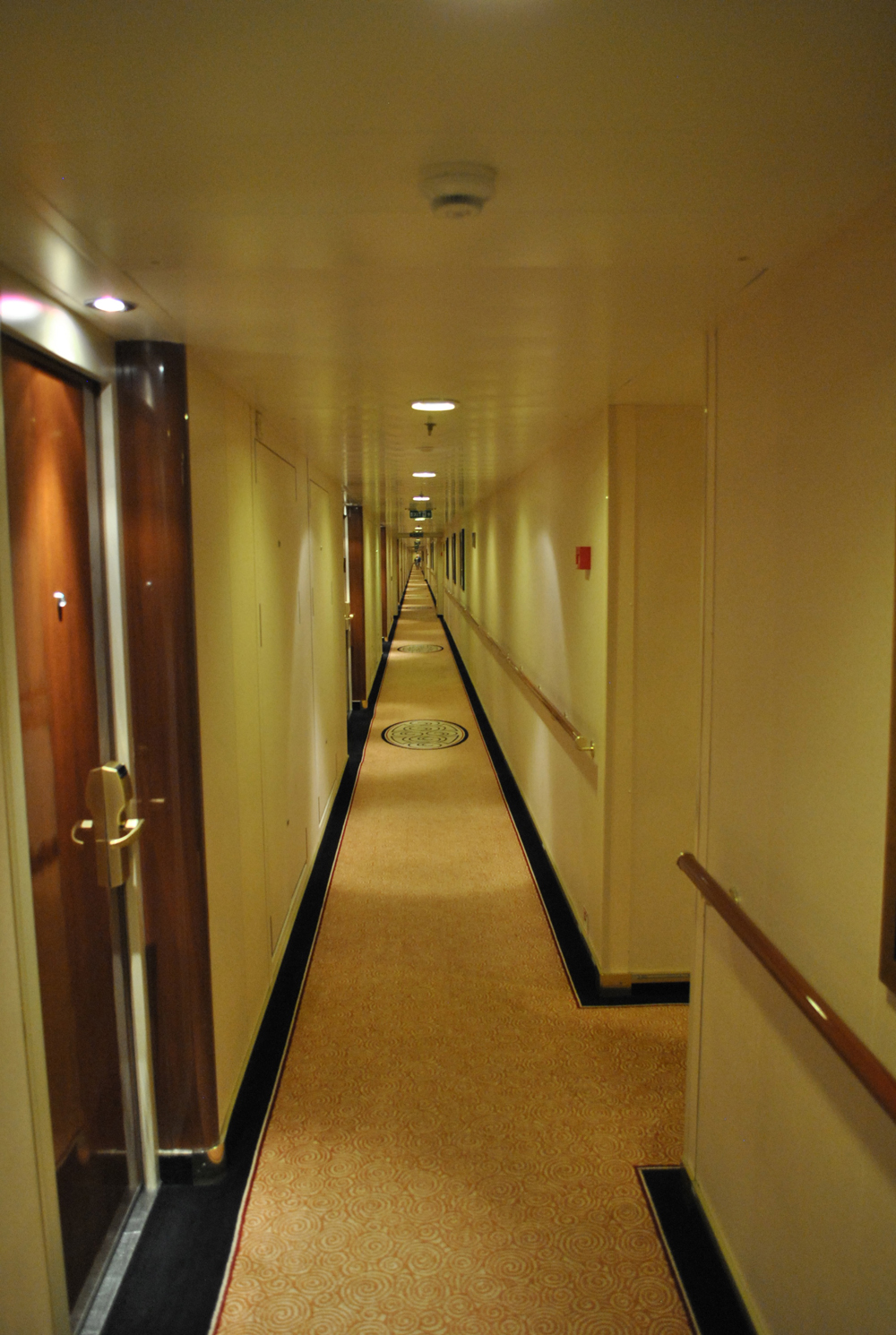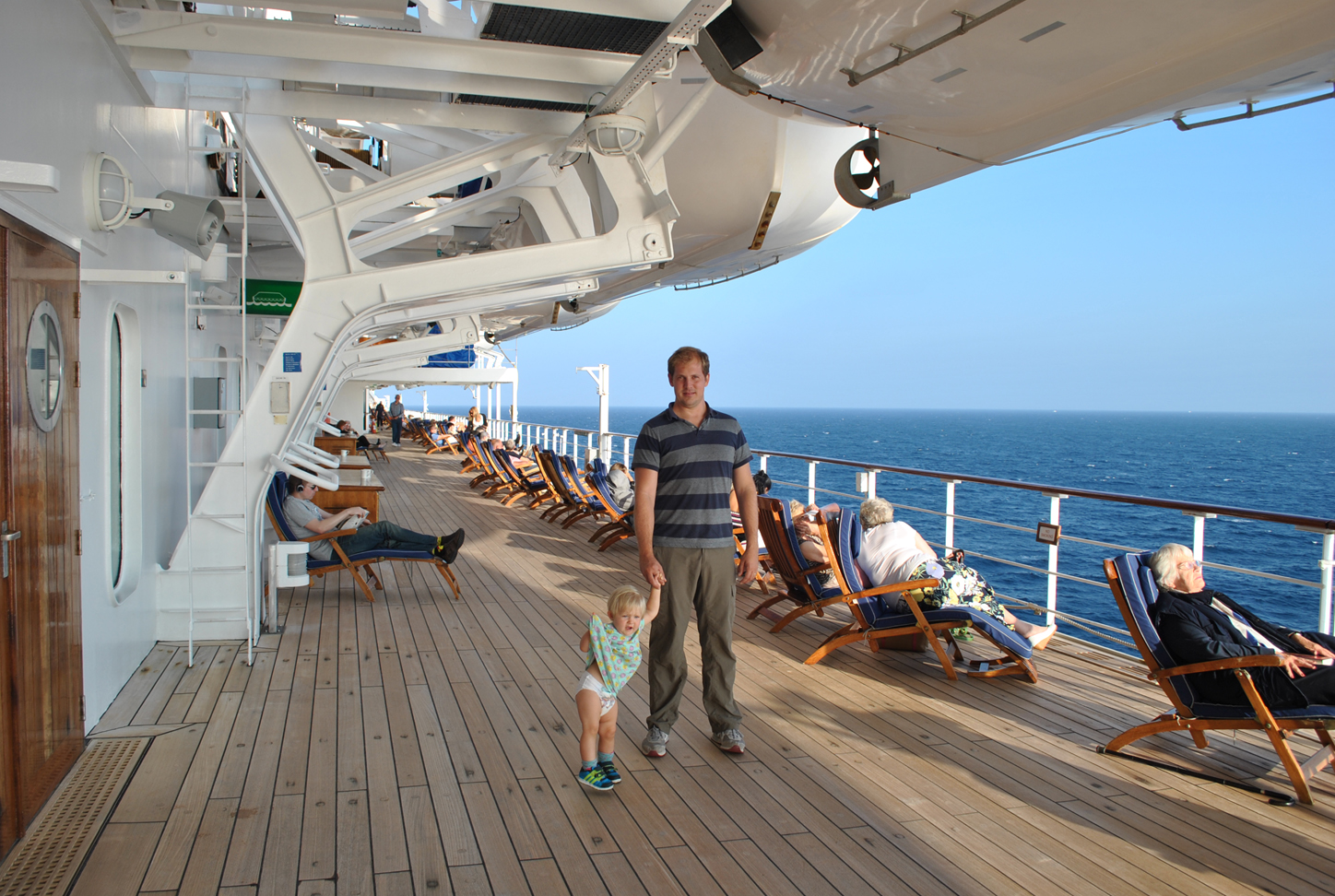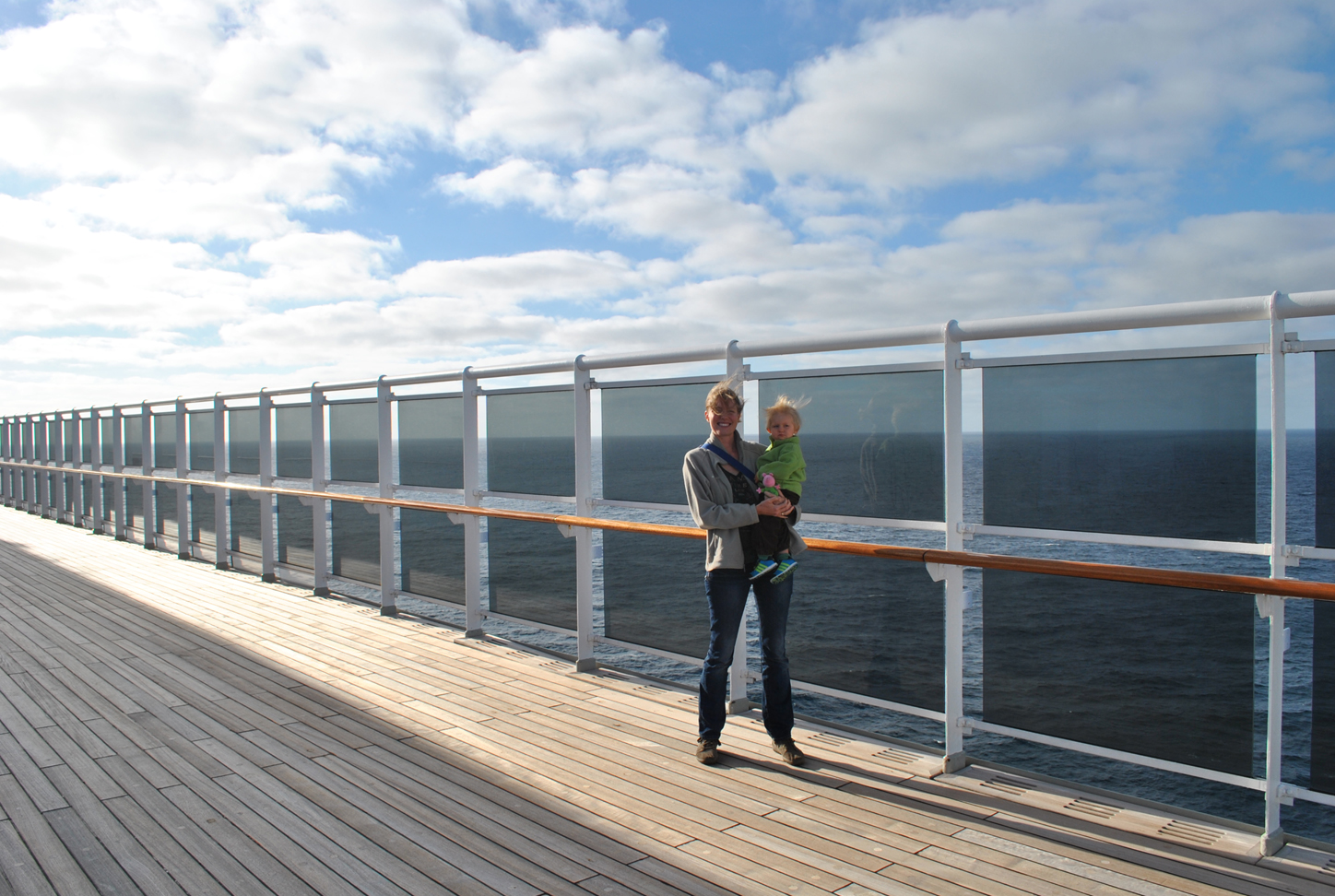 We were really lucky with the weather and had quite a few sunny days. There were a few fog banks we crossed which was fun too, really made you feel that you were at sea and very, very far away from everything else. Luckily we didn't get any really bad weather, i.e. no seasickness. We saw quite a few of our fellow passengers with tell-tale patches stuck behind their ears but the three of us felt good all through the passage.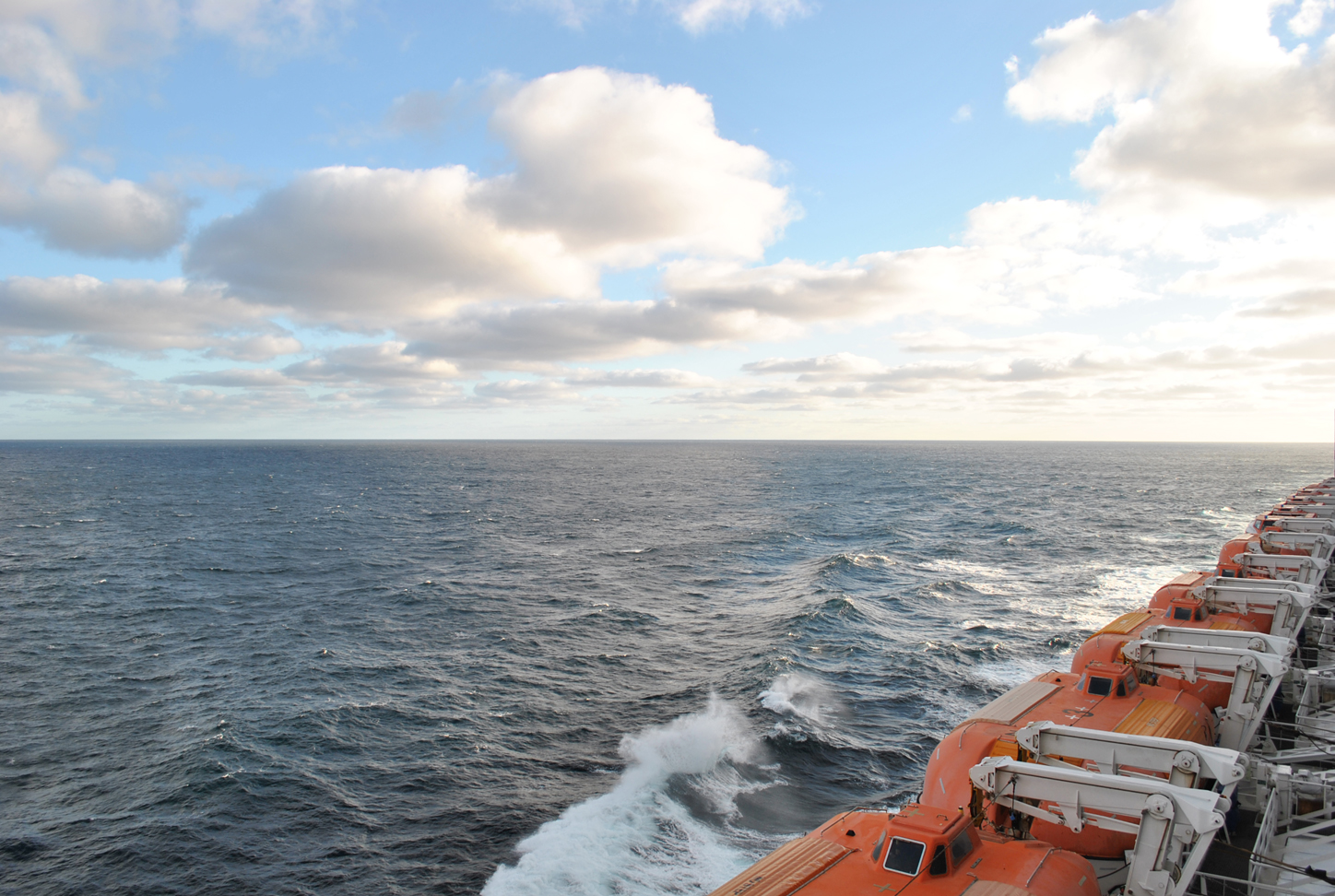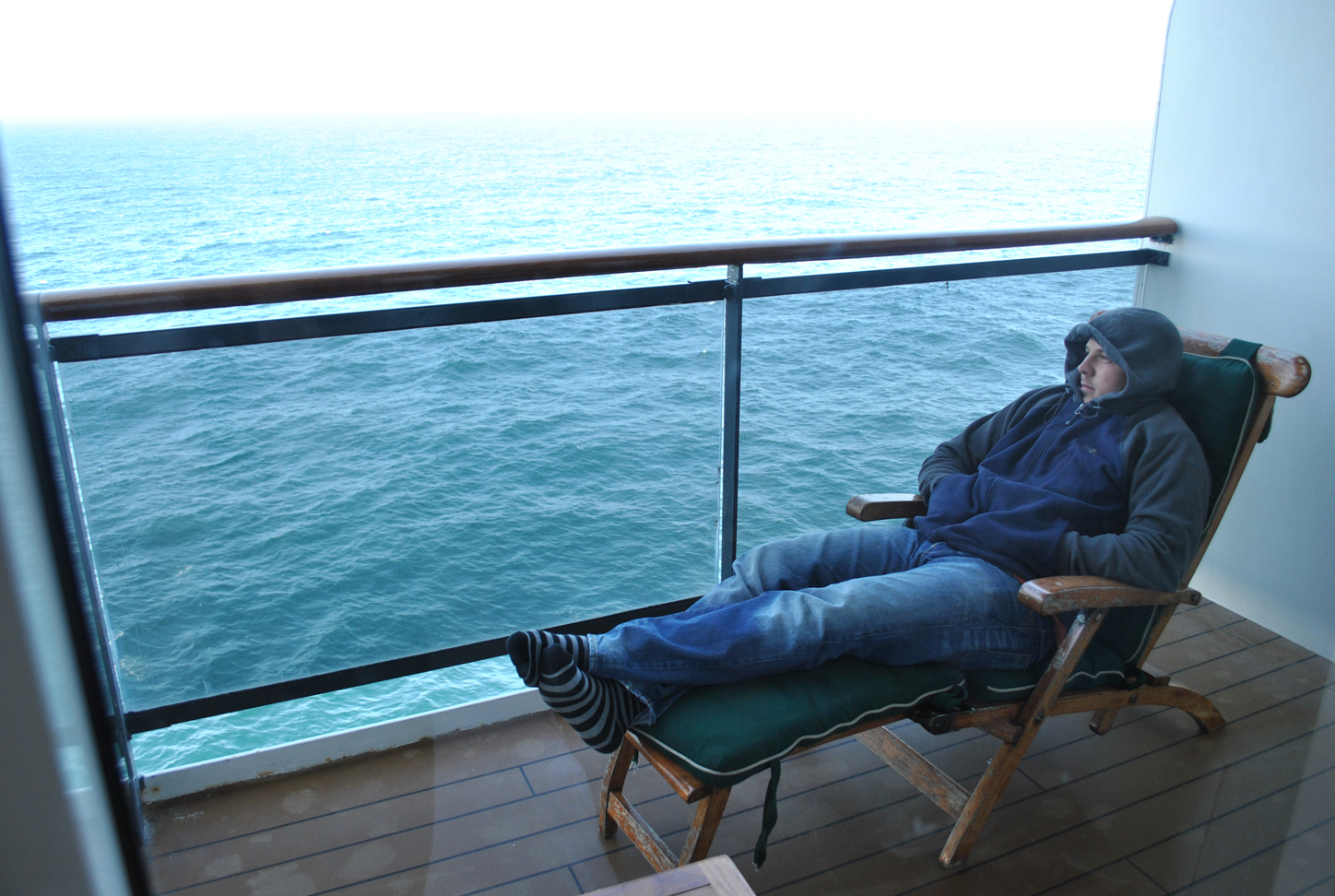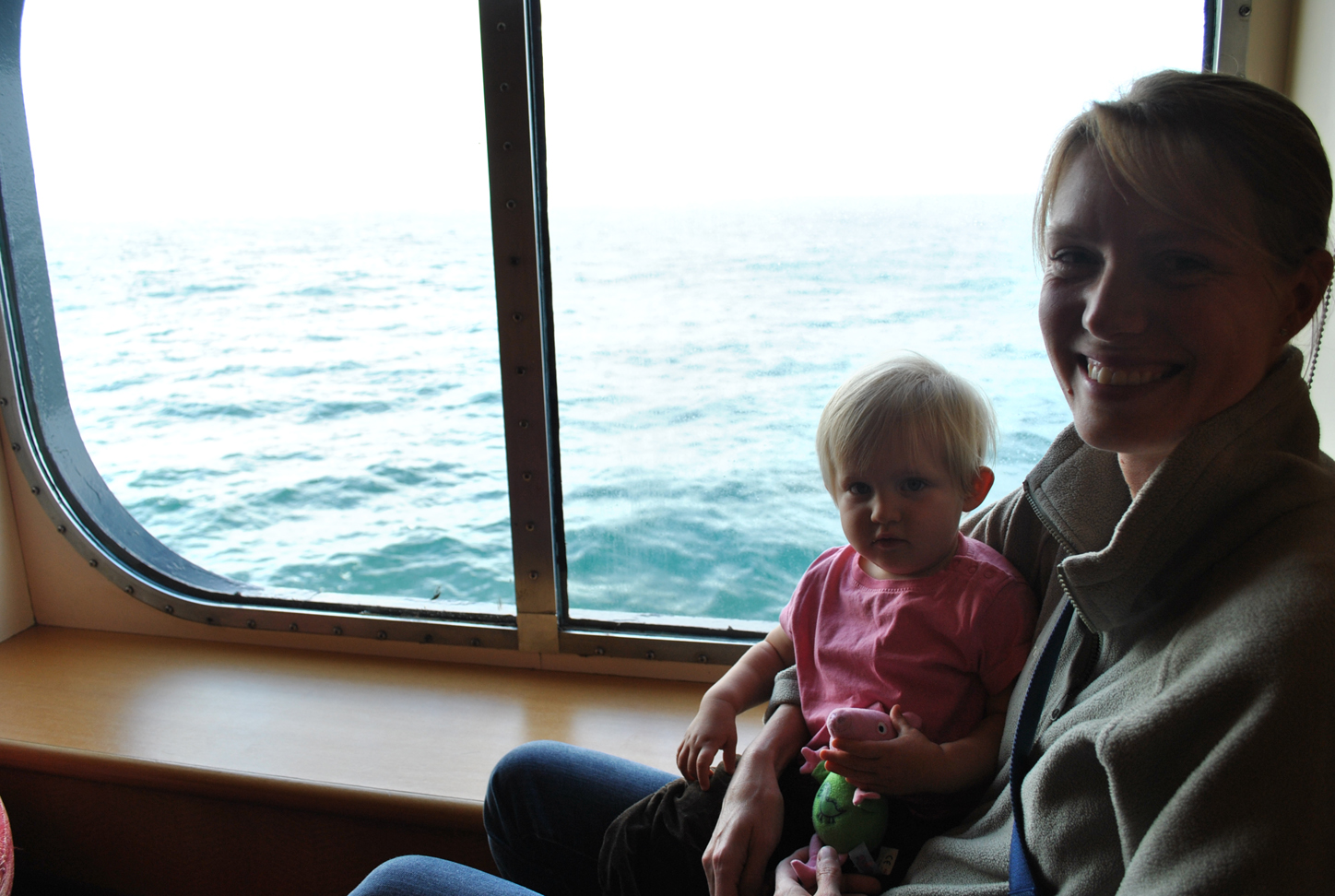 We didn't need to do any extra exercise since we have Small Paw who helps us tone our arms and legs on a daily basis but many people took to the ship's gym, pools and promenade deck to keep fit during the 7 days at sea. Or maybe they just wanted to keep fitting into their clothes after all the food. (You can eat all day long if you choose to. All included.)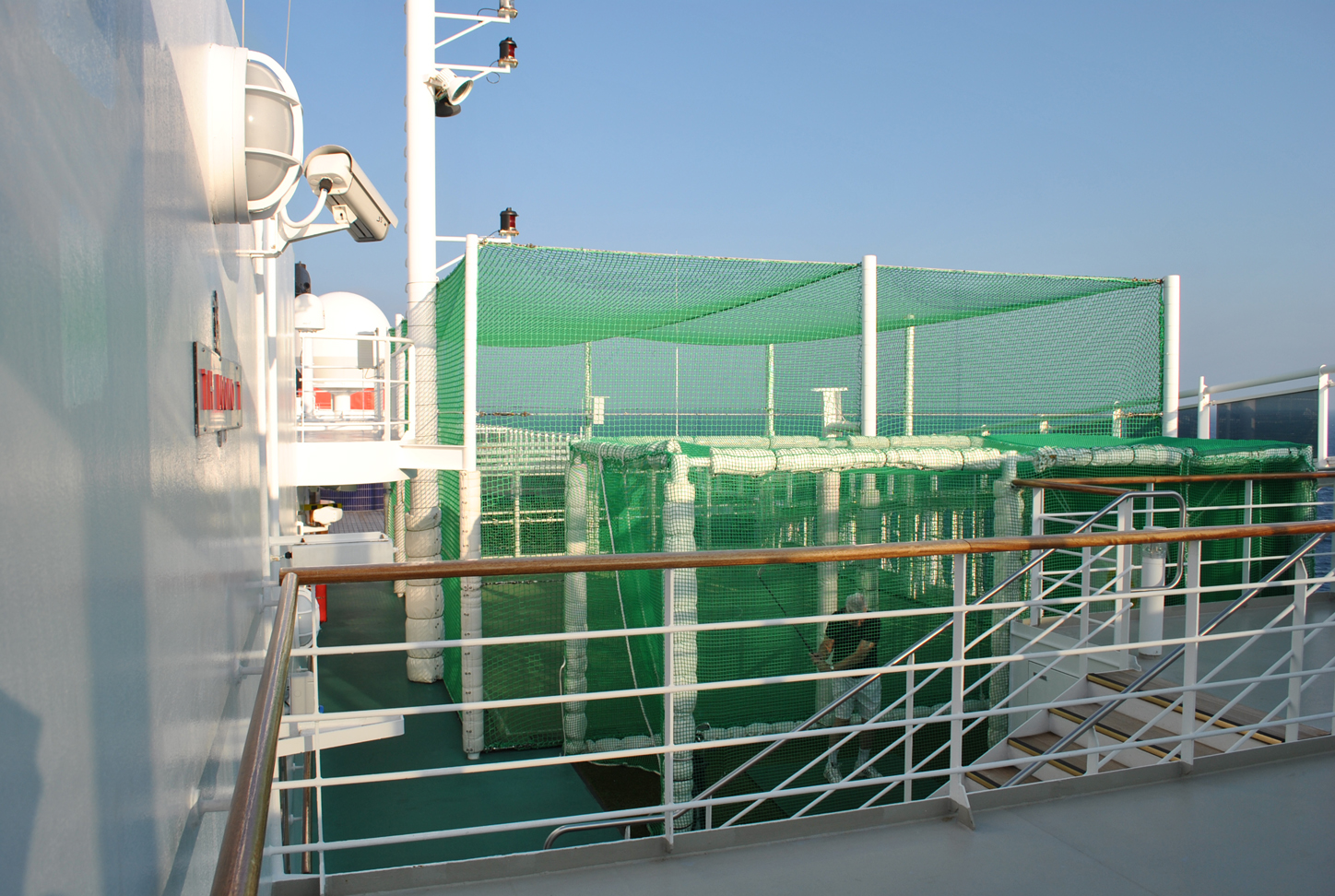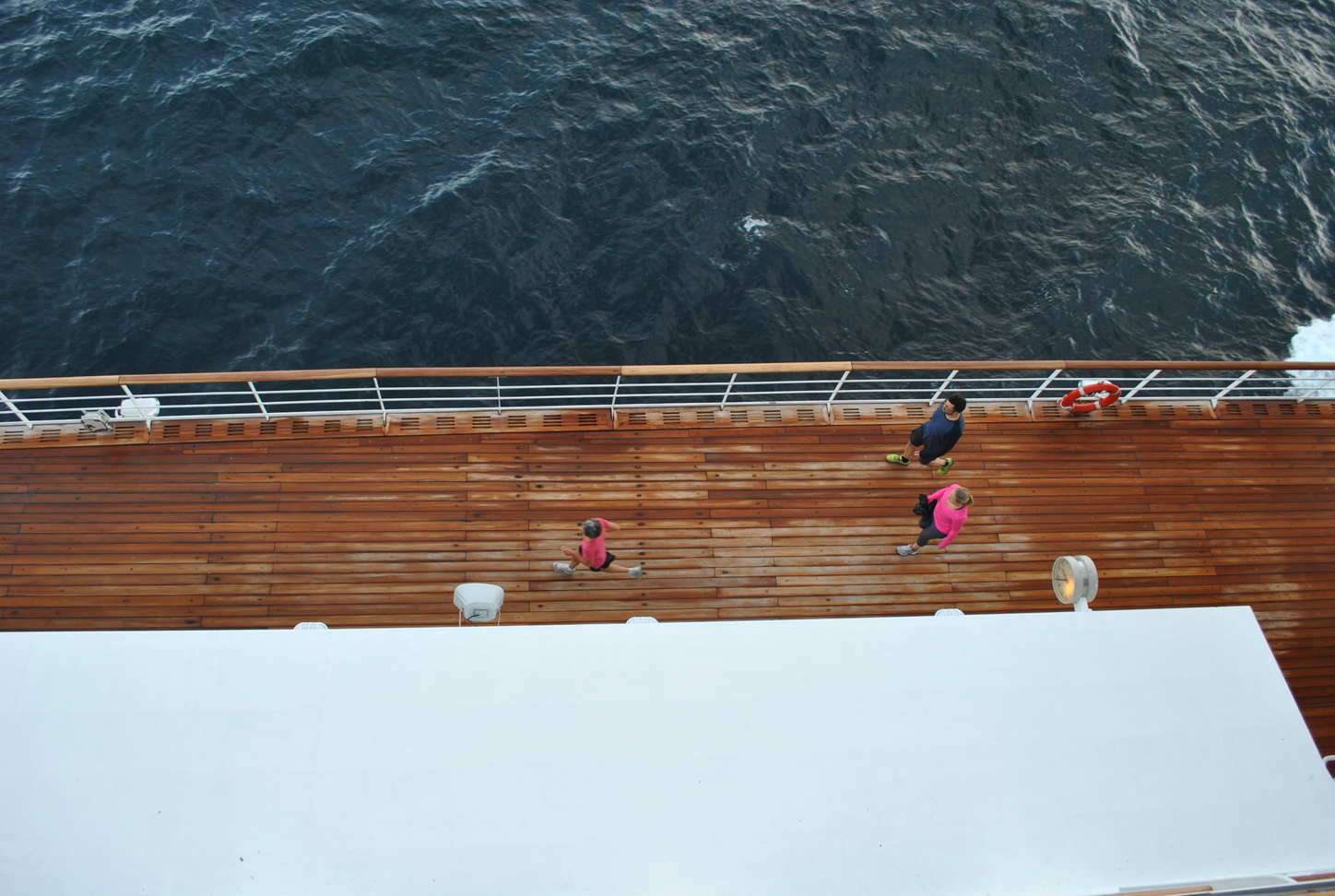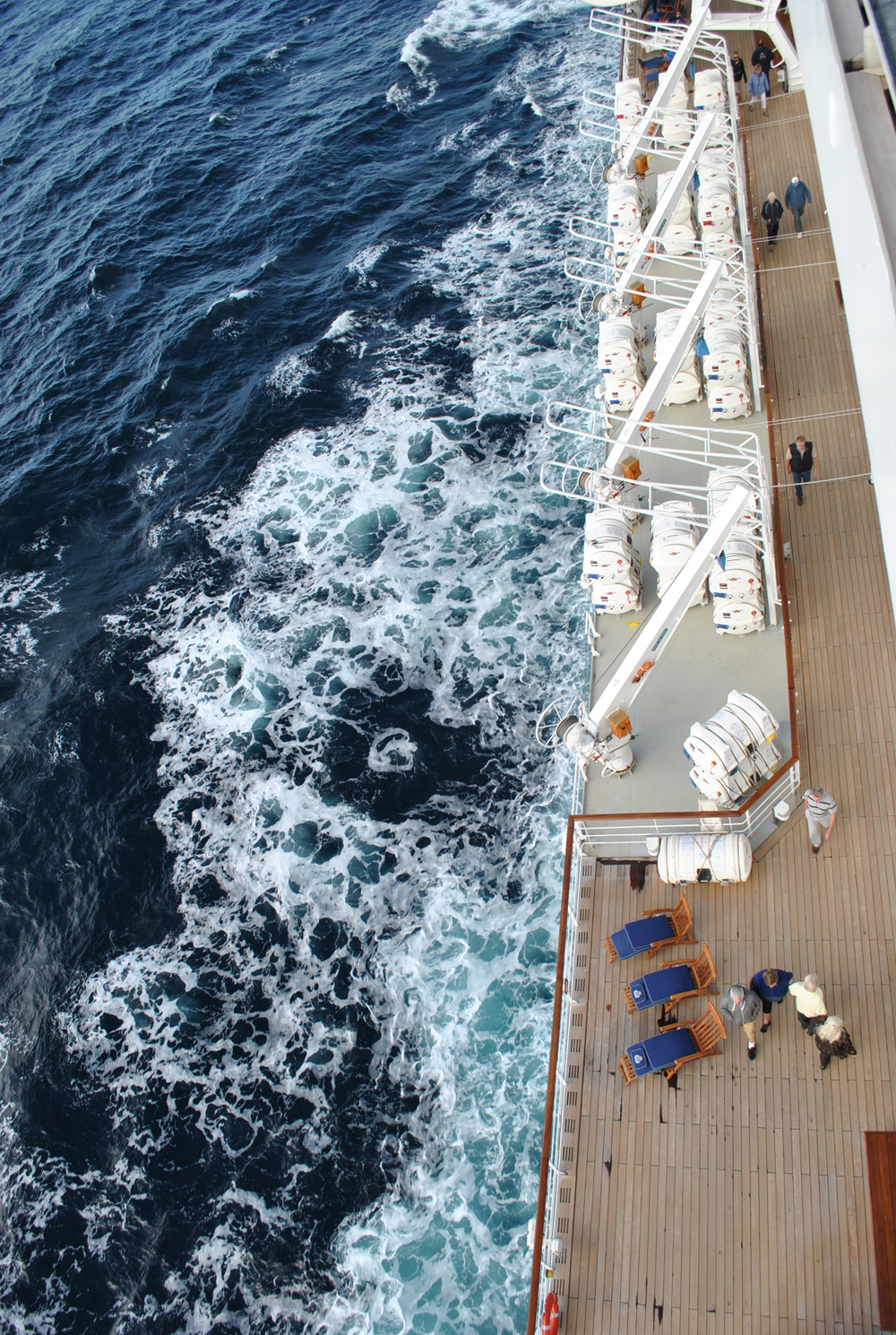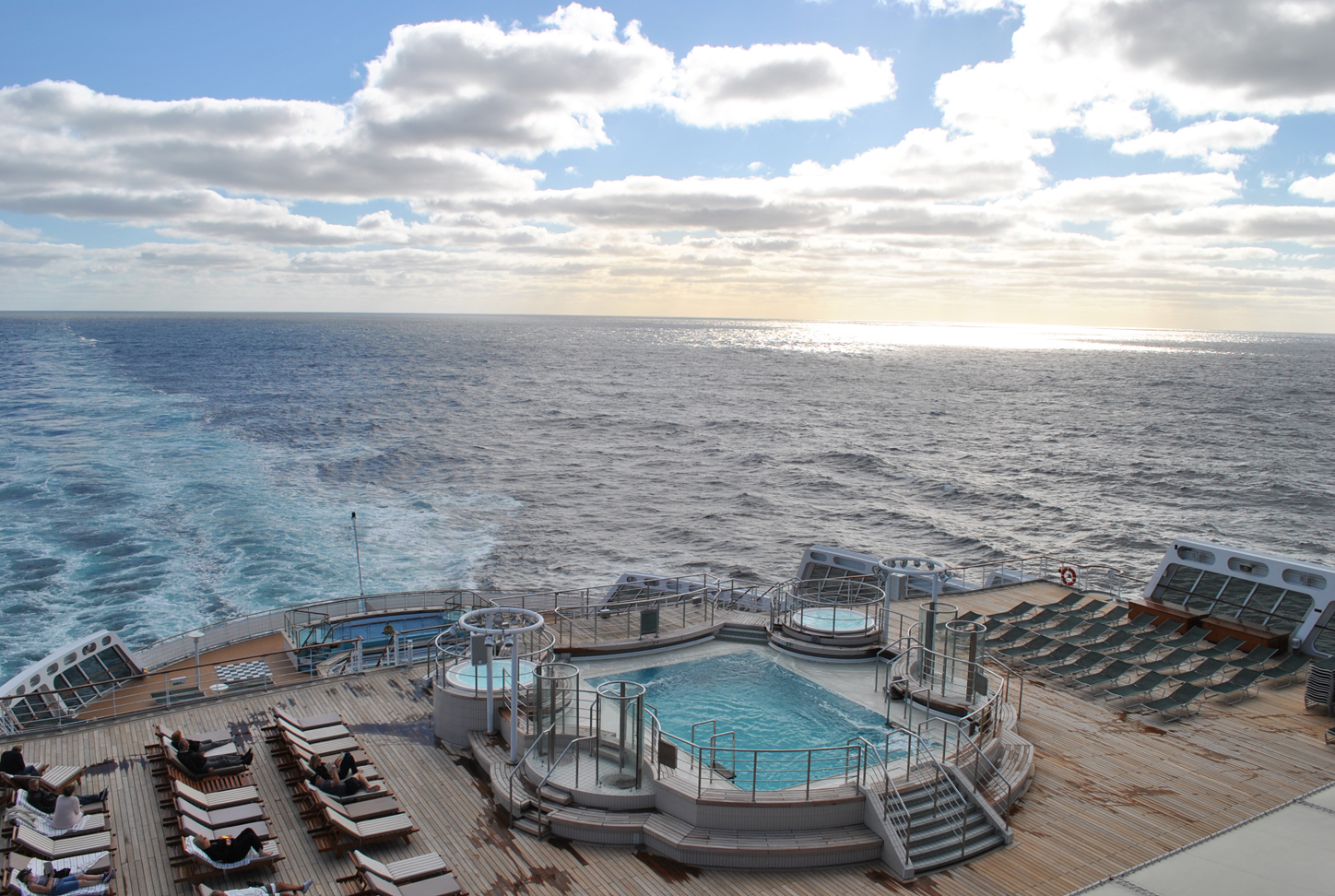 Cunard is apparently famous for their rather strict dress code at night although if you don't want to play along then there are areas where you can eat and relax without having to dress up. But since we were decked out with all the right paraphernalia thanks to Sam and Micha's wedding, we were happy to get dressed for dinner each night. Nights are either designated as formal (tux or dark suit, evening dress) or informal (jacket without tie, cocktail dress).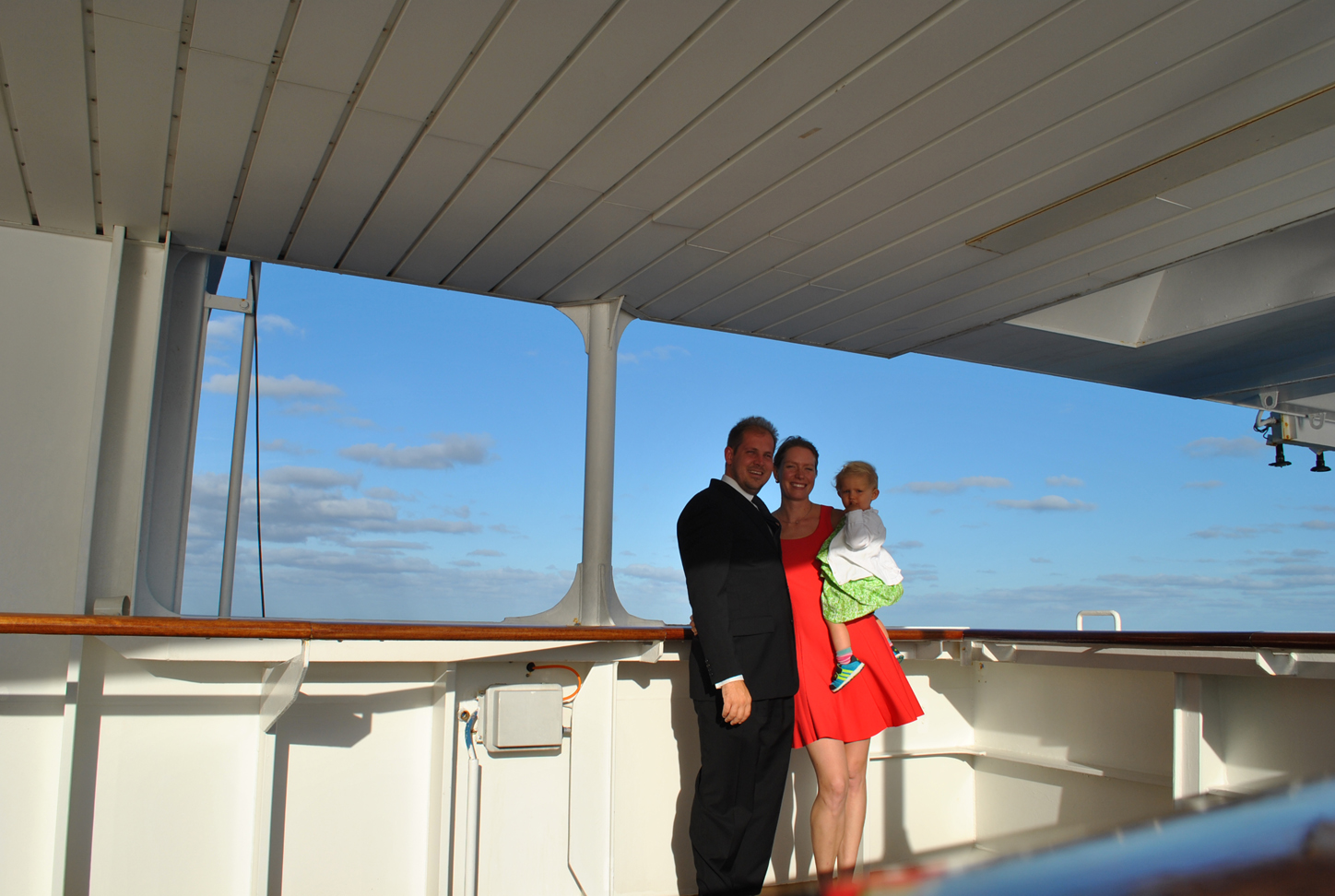 Because of our super duper upgrade we got assigned to a different restaurant 'tier' as well. The food isn't too different between the two tiers but in our restaurant, the Princess Grill, we could go at any time between certain opening hours. In the regular restaurant, the Britannia, you have to choose a sitting either at 6pm or at 8pm, for the duration of the voyage. We also had our own table as opposed to a larger shared one, although that might have been fun depending on the people you are seated with.
Food was a very big part of this trip. There was breakfast, a la carte from apple danish to waffles, then lunch, again a la carte or buffet if you preferred, then tea with scones and sandwiches, then dinner again a la carte. Of course, if the fancy struck you at any time and you were feeling a little peckish you could always head to the King's Court buffet to eat. Seriously, at any time.
The one downside to the whole trip was the child zone which we had been very excited about before we got onto the boat. On the website it sounds as though you can drop of your kid and go enjoy a lecture or lunch or whatever you want but if your kid is under 2 (Hi Small Paw!) then a guardian needs to be there in the playroom at all times, defeating the whole freaking purpose of the service! It was still a fun place for her to go and play with other kids since there were two little boys almost her age and they did have a lot of toys and books there for the babies to play with. But I would have loved to have a dinner 'sans baby' or an afternoon of just sitting in the deckchair with Fa to watch the clouds go by. Oh well, now we know. (You could drop off your kid after 6 and let it sleep there while you went to dinner but since Small Paw doesn't go to sleep until around 8 or 9, that wasn't very useful for us.)
ANYway, enough griping. Here are some more pretty pictures from our arrival in New York at 4 in the morning.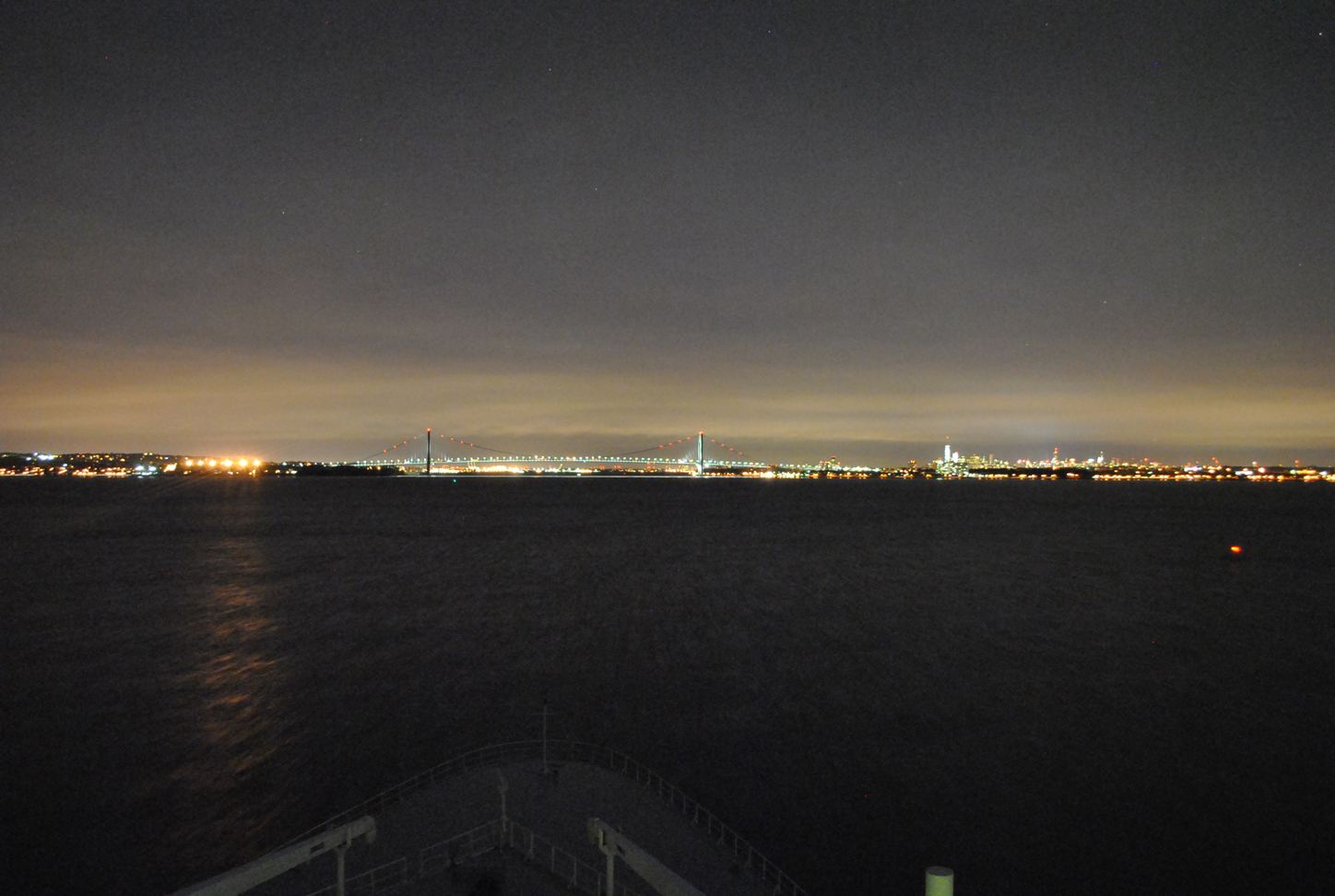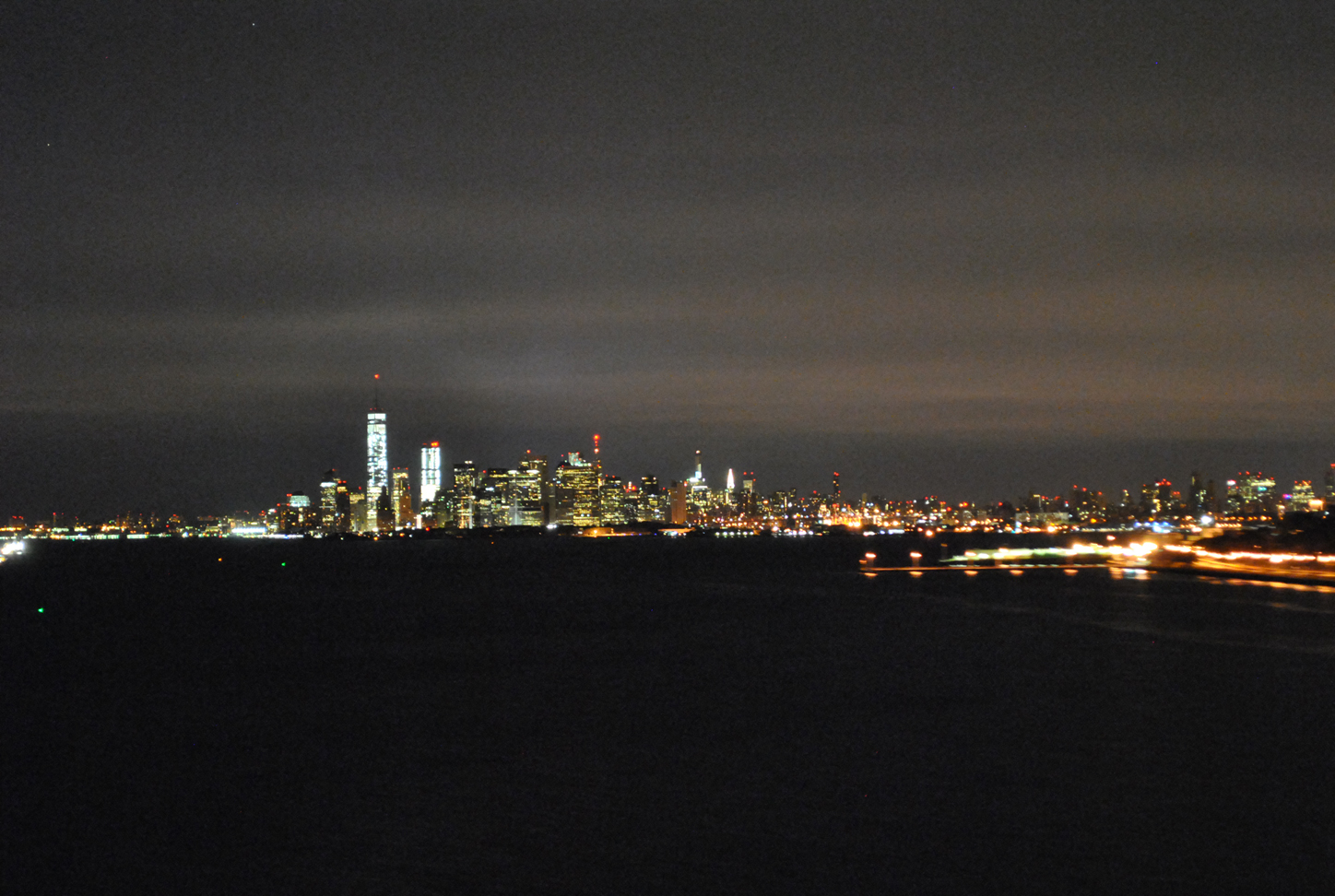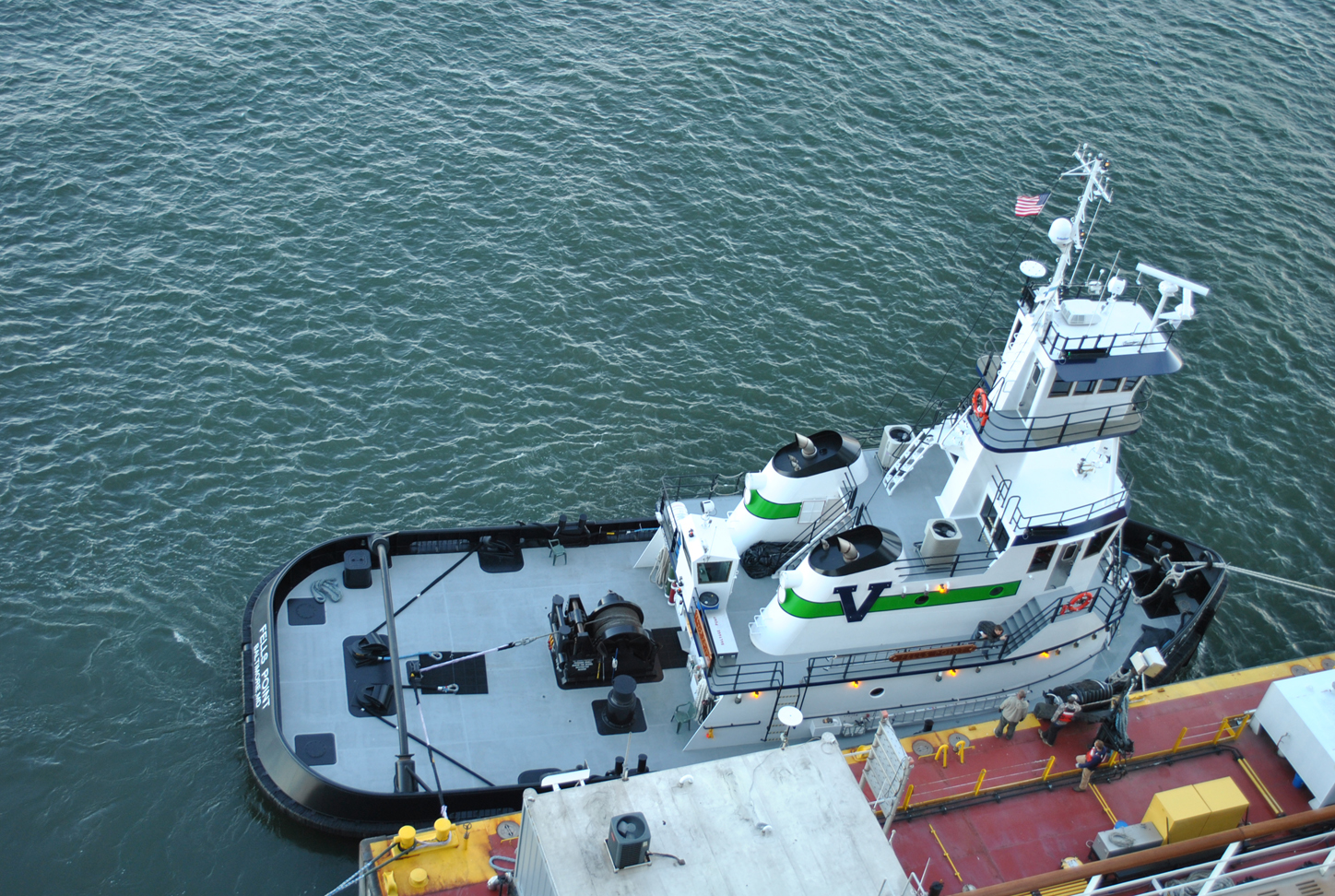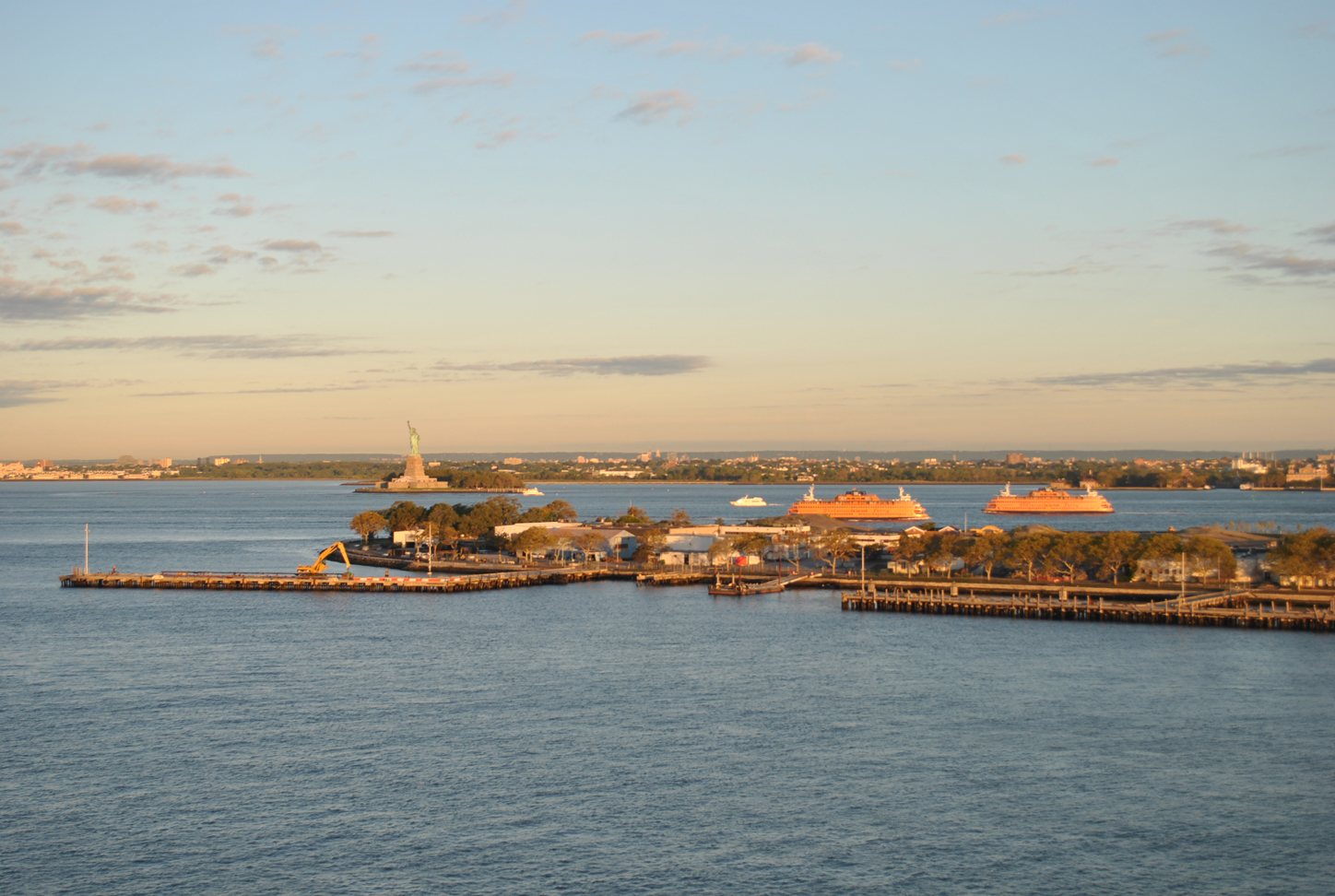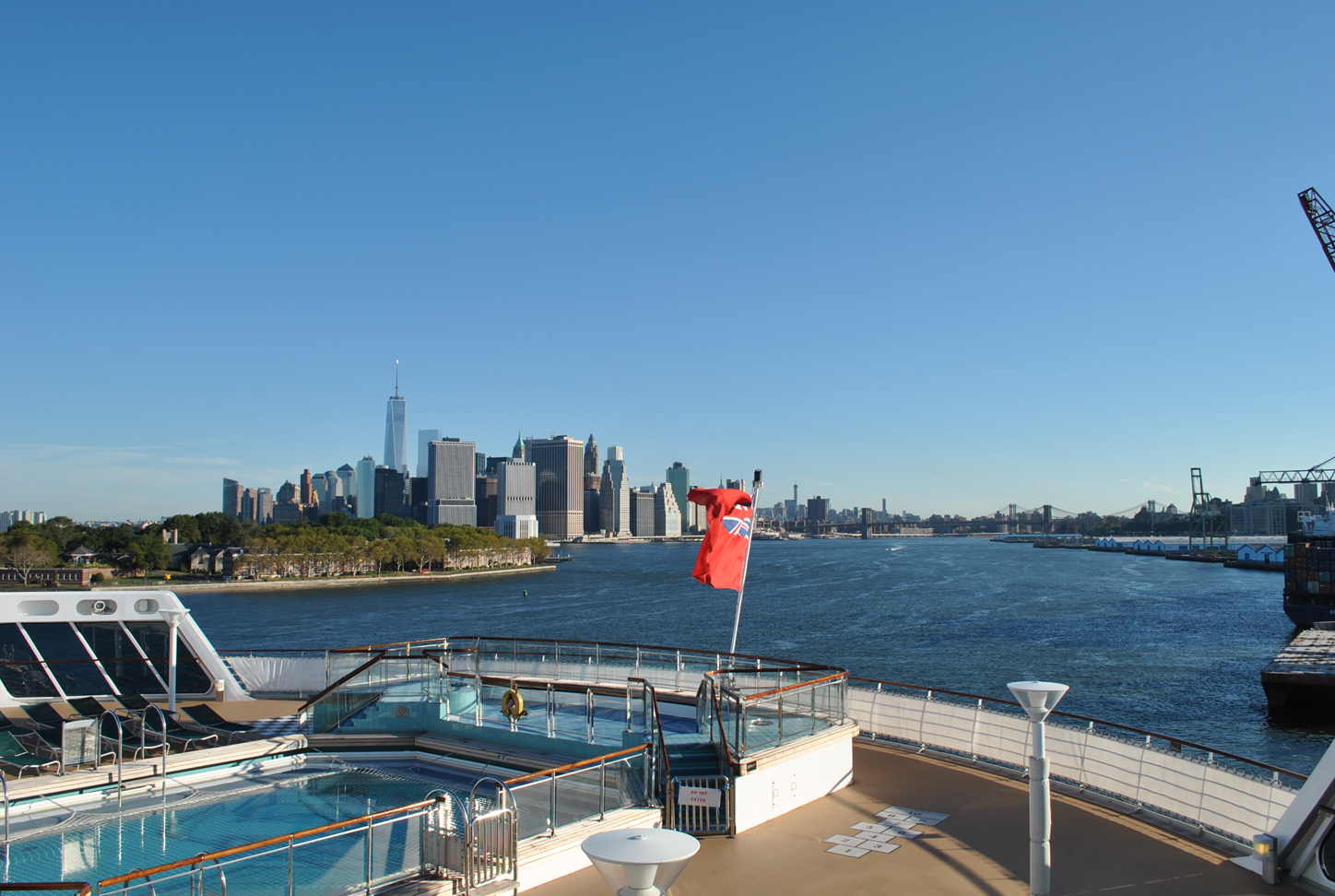 I know Small Paw wants to write her own account of the crossing so I'm going to leave it at this for now. Although I haven't even talked about the wonderful Shakespeare and astrology lectures we heard or the unintentional celebrity stalking (I do apologize Ms. Imrie) and the mysterious suite on deck 9 guarded day and night by a team of bodyguards. Oh so many wonderful stories… It really was a dream come true.
10 Responses to "A Dream Come True"